Sign up for the Let's Pass the E.R.A. Now Thunderclap. Click Here.
Please be sure to ask you family and friends to sign-up too!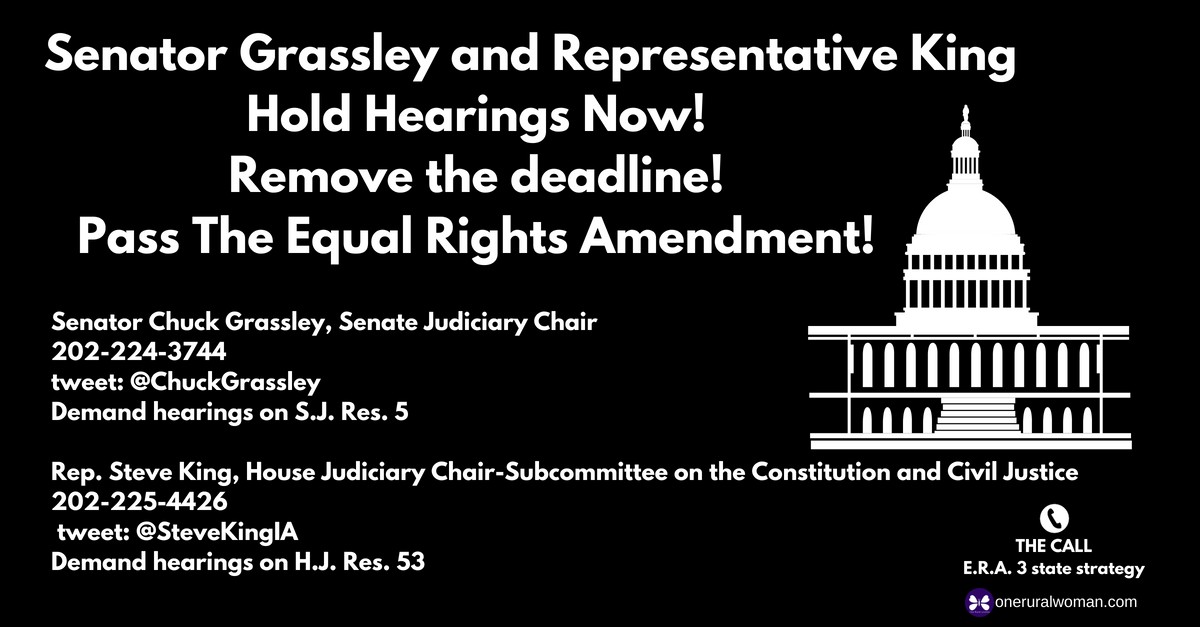 Call the Congressional Judiciary Committee Chairs. Tell them to hold hearings on Joint Resolutions (S.J. Res. 5 and H.J. Res. 53): Removing the deadline for the ratification of the equal rights amendment.
Senator Chuck Grassley: 202-224-3744
Congressman Steve King: 202-225-4426
Thanks to the late Equal Rights Amendment (ERA) champion, Congresswoman Bella Abzug, on Sunday, August 26, 2018, Women's Equality Day Celebrations will be held across the nation.
Abzug's Joint Congressional Resolution proclaiming August 26 of every year Women's Equality Day passed in 1971. The day is a tribute to the 1920 ratification of the 19th Amendment, guaranteeing American women the right to vote, and calls on the President of the United States to issue a Proclamation on this historic date every year. Until the ERA is ratified, the day serves as a reminder of the continued struggle to obtain full equality under national law.
The ERA: Equality of rights under the law shall not be denied or abridged by the United States or by any state on account of sex.
While many Americans support Constitutional equality for women, most do not realize the ERA has not yet been fully ratified. The first version was introduced to Congress in 1923 and finally passed out of both chambers in its current form nearly fifty years later, in 1972. The ERA was sent to the states with a "deadline" of seven years to obtain ratification from the thirty-eight states required written into the proposing clause of the amendment. In 1979, Congress extended the arbitrary deadline for three more years. In 1982, the ERA stalled with three more states needed to ratify the amendment into the U.S. Constitution.
Thirty-five years later, on March 22, 2017, Nevada became the thirty-sixth state to ratify the ERA! And Illinois ratified this past May 30, 2018. That means only one state to go! A subjective deadline stand in the way of ERA becoming the 28th Amendment.
This coming Women's Equality Day we have much to celebrate but there is still work to be done. Please do your part by picking up the phone and making 2 quick calls on Monday August 27, 2018.. A couple minutes of your time will make a world of difference.