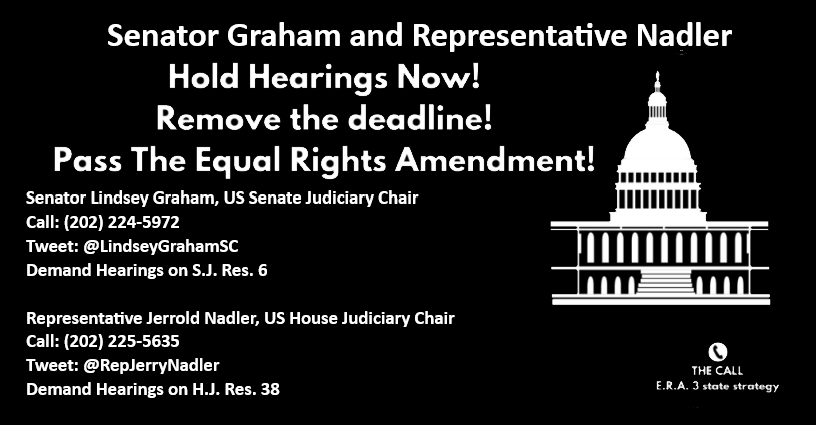 Sign the Petition…
To add your name to the petition Click Here
Petition Language
To U.S. Congress:

We the undersigned petition U.S. Congress to hold hearings on the federal national joint resolutions S.J. Res 6 and H.J. Res. 38 calling for the removal of the deadline for the ratification of the Equal Rights Amendment. These resolutions would result in the adding of the following words to U.S. Constitution: "Equality of Rights under the law shall not be denied or abridged by the United States or by any state on account of sex. The Congress shall have the power to enforce, by appropriate legislation the provisions of the article."
We hope you will join with Representative Jackie Speier and Senator Ben Cardin to co-sponsor the resolutions in the U.S. House and in the U.S. Senate house in adding your name to this important measure. We ask that you dialogue with your colleagues in this important conversation to move our great nation forward.
Why is this important?
The Equal Rights Amendment is a U.S. Constitutional amendment that will empower women, reaffirm the rights of men, and allow for the U.S. Supreme Court Justices to provide protections for those persons in the LBGT Community as all people should be treated equally under the law.
Please Do Follow Us
Online on Facebook, Twitter, Instagram and YouTube for conversations and community. We love hearing from you