"Women's Equality Day Rally Trumps ERA Action with 24 Words"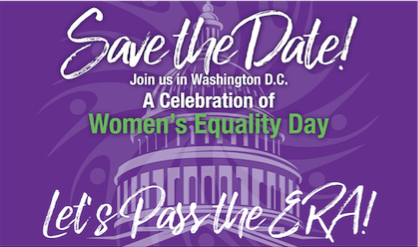 ATLANTA, GA, JULY 1, 2017 – 
Katrina's Dream, ERA Action and a roster of national leaders and advocates from across the United States will gather, Friday, August 25 – 27, 2017 in Washington, DC,    in the fashion of Women's Equality Day founder, the late Congresswoman Bella Abzug; insisting on hearings for the current Equal Rights Amendment, ERA of just 24 words, which comprises the Joint Resolutions, SJR 5 and HJR 53, to remove the deadline for ratification. The 2017 Women's Equality Day rally in 
DC follows the Equal Rights Amen
dment, ERA ratification led 
by Nevada State Sen
ator Patricia Spearman March, 22, 2017. 
The Third Annu
al Rally continues with the call of a
dvocacy that begins with a day of action on Capitol Hill from
St. Stephen and the Incarnation Episcopal Church, 1525 Newton Street, NW, Washington, DC.
Rally organizer, Helene Swanson, cites the exciting addition to the Women's Equality Day of action, "this year we are expanding our event to include "24 WORDS" for two performances, an equal rights musical featuring 20 original songs inspired by the equal rights movement from 1775, when women were almost equal, pot was almost legal and contraceptives could be sold to unmarried people, to March 22, 1972, when the Equal Rights Amendment passed the Congress."  
The invitation is for all women to join the day of advocacy, 

August 25 – 26, 2017

, whether in DC or with your local state legislators. Add your voice as two days of dialogue, panels, musical, interfaith vigil, walk and rally, is forged from the church to the Capitol Halls, to the National Mall. Women standing for Equal Rights is the clarion call of herstory, for history's sake. The time is now for action and the 2017 Women's Equality Day is the time to act on those 24 works that is the reality, Equal Means Equal. 
Charles Kouri, author and producer of the same-titled 24WORDS including lyrics with music, in classic consciousness for a movement lost in time charges, 
"I would ask any man who believes women are not equal or should not be equal to tell a woman they care about – their mother, daughter, wife, sister – "You are not equal." If you can't tell someone you love they're not equal then it's easier to see that systems of inequality – and every reason for inequality – is wrong."
"Three-state strategy
" to 2020 for a Congressional Constitutional