The Public Lecture – Kenneth David Kaunda: A Political Mystic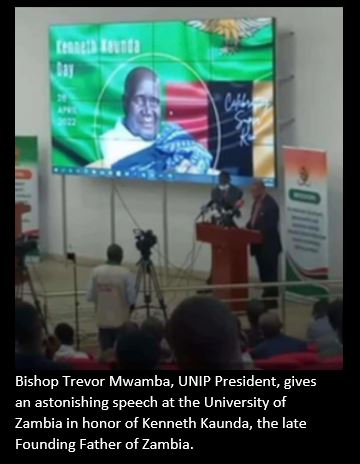 In Commemoration and Official Opening of Kenneth Kaunda Day Thursday 28th April 2022. University of Zambia
By The Rt. Revd. Dr Musonda Trevor Selwyn Mwamba, President of UNIP.
Your Honour the Vice President Mrs W.K. Mutale Nalumango, the Vice-Chancellor Professor Luke Mumba, Faculty and Staff, Distinguished Guests, Students, Ladies and Gentlemen.
Let's begin with a prayer composed by President Kaunda, " I release the nation, its people and the presidency from every negative force made against Zambia. I submit the souls now living and posterity and also its presidency to the salvation and Lordship of our Lord Jesus Christ and the Father.  I further declare that Zambia shall forever enjoy tranquility and remain a united and peaceful people under the motto; One Zambia, One Nation. The Lord bless Zambia and keep Zambia".
It's ennobling for me to deliver this Public Lecture in commemoration of the 98th birthday of our Founding Father and First President of Zambia, His Excellency Doctor Kenneth David Buchizya Mutepa Kaunda; I have titled it: Kenneth David Kaunda: A Political Mystic.
First, let me express on behalf of the United National Independence Party (UNIP) our immense gratitude to the University of Zambia for agreeing to participate and facilitate this event; secondly to the Government through the Cabinet Office for graciously accommodating and hosting this inaugural event as manifested by the presence of her honour the Vice President.
Before paying tribute to President Kaunda a great statesman who was colossal on the political world stage. A great Pan-Africanist and peacemaker. Let me acknowledge another great Zambian statesman whose centenary of birth was on 12 April, and that is Mr Simon Mwansa Kapwepwe. He was the second vice president of Zambia. Visionary and wise. It was Mr Kapwepwe who in 1958 named Zambia – Zambia. He inspired us to take pride in our culture and identity and through his leadership and writings sought to preserve our heritage. One of his books 'Shalapo Centicandela' – instructs us to choose what is beneficial to us. He instructs us to know God, integrity…things that matter in life. We thank God for the gift of his life to Zambia.
Another gift of God to Zambia was President Kaunda. It's befitting that the Public Lecture should take place at the University of Zambia fondly called UNZA.  It is my alma mater and is the largest, oldest, and leading university in the country. The university was established in 1965 and officially opened on 12 July 1966.
The Founding Chancellor was His Excellency Dr Kenneth Kaunda. At the opening of UNZA, President Kaunda introducing the keynote speaker President Julius Nyerere of Tanzania, spoke of the neglect of education by the colonial administration. He cried remembering how after his father's death, the school he attended could not enroll him because his mother did not have money to pay school fees. It took time for him to compose himself to finish his introduction.
President Nyerere was a witty man and charming, so he lifted the mood by saying: "Ken, you do not know what problems you are bringing upon your head, opening this school. University students are uncontrollable, they go on strikes and on protest marches; they will be descending on State House shouting and making demands and telling you how to run the country."
President Nyerere was also erudite and his speech that day examined the possible conflict between African nationalism and Pan-Africanism. He deliberately chose this subject because he believed that UNZA, and other universities in Africa, had a responsibility in this matter.  For the leaders of Africa, we're grappling with serious and urgent problems within their own states; and dangers from outside.  So, they had little time for serious thinking about the way forward to Pan-Africanism.
He posed the questions; Who is to keep us active in the struggle to convert nationalism to Pan-Africanism if it is not the staff and students of our universities? Who is it who will have the time and ability to think out the practical problems of achieving this goal of unification if it is not those who have an opportunity to think and learn without direct responsibility for day-to-day affairs? And cannot the universities themselves move in this direction? Each of them has to serve the needs of its own nation. But has it not also to serve Africa? Why cannot we exchange students, "…have Tanzanians getting their degrees in Zambia as Zambians get theirs in Tanzania? Why cannot we share expertise on particular subjects, and perhaps share certain services? Why cannot we do other things which link our intellectual life together indissolubly? These are not things only for Governments to work out." So spoke President Nyerere at the opening of UNZA 56 years ago. It was a historic moment.
Another historic moment was in 1990 with the release from prison of Nelson Mandela, in February of 1990, in his first trip abroad he came to Zambia and he came to UNZA, and he delivered his first university speech since his release to the students. Imagine 27 years imprisoned on Robben Island Mandela, came out and first spoke to UNZA students you really are special! It was a historic moment.
Mr Vice Chancellor, I propose that the speeches of these two great statesmen should be framed and displayed in an appropriate prominent place and statues of them commissioned together with that of the Founding Chancellor President Kaunda.
This is possible because recently the UNZA Milling Company was opened which can bear the cost of my proposal from sales of the 25kg premium-quality breakfast meal!
I am proud of UNZA's history. I read Law here 45 years ago. And resided in the ruins as we called them in President Hall. Am now told they are total ruins!!!
So may I beg your indulgence to reminisce about this after this commercial break which you all deserve.
A doctor, an engineer, and a politician were discussing which of their profession was the oldest. The doctor said his was the oldest because God performed the first surgical operation as recorded in the Bible in the book of Genesis when He put Adam to sleep, took a rib from him and fashioned Eve. This said the doctor "made God the first surgeon.  So medicine is the oldest profession." The engineer shouted "No! No!" His was the oldest because if one went to the very beginning of Genesis it's clearly written there that God created the heavens and earth from chaos and confusion, this was the first engineering act bringing order out of chaos and confusion, and therefore God was the first engineer.  Accordingly, engineering is the oldest profession."  At this point, the politician jumped up and down excitedly and smiling asked, "But who do you think caused all of the chaos and confusion in the first place?"
This was the commercial break and now back to my reminiscing.
In my time here I was in the Class of 81 in 2019, a genius who remains anonymous wrote an article about the Class of 81 stating that without doubt, it had some of Zambia's best minds at the time and since. Amongst was Melvin Mbao (now a renowned professor in South Africa) We nicknamed him Lord Chief Justice for his well-grounded academic arguments – he graduated with a distinction; there was Chilufya Mbalashi (later the first female Deputy Governor at the Bank of Zambia); Hilda Chibomba (now President of the Constitutional Court) there was Margaret Munalula (later Dean of the UNZA Law School and now a judge of the Constitutional Court); there was Wynter Kabimba (later Lusaka Town Clerk and former Secretary-General of the Patriotic Front and Minister of Justice) he always had a dissenting opinion expressed in his sing-song voice. Edgar Lungu (Sixth President of the Republic of Zambia), he always exuded quietness. There was Justin Chinyanta (the eminent investment banker, he became Vice President at Citibank and HSBC before forming his own banking group), he was eloquent and at times confusing even the lecturers.
The writer takes us on a roll call of all the distinguished classmates in gripping words but innocuous to avoid being sued for defamation! The writer makes mention of me saying, (recent Bishop of Botswana and now Assistant Bishop in the Diocese of Chelmsford, and Vicar of Barking, London), always eloquent and flowery in his presentations and arguments. Many exciting debates and discussions were had with our lecturers such as Professor Muna Ndulo (then Dean of the Law School who also taught the class in Criminal Law and the Law of Evidence), Professor Mvunga (an authority on Land Law), the late Dr Remmy Mushota (Labor Law) Dr John Mulwila (Company Law). Such was the Law Class of 81.
As students here we had fond memories of the Vice-Chancellor Professor Lameck Goma whom we affectionately called Professor Mosquito for being a leading authority on mosquitoes. Later, Southern African Institute for Policy And Research (SAIPAR) established the Goma Lecture Series, an annual lecture, in his honour for being a 'great scholar, an excellent researcher and a distinguished public servant.' As you enter the University from the Great East Road on your left is a lake which is called Goma Lake. As a Law student, Lord Denning one of the greatest English jurists of the twentieth century was my legal mentor. His judgements wise and lucid were inspired by his faith. He believed that 'Without religion, there can be no morality, and without morality, there can be no law'. The Bible he said was the most tattered book in his library and he drew upon it constantly.
Lord Denning advised lawyers to read works of history and literature. He cited Sir Walter Scott's novel Guy Mannering. The client Colonel Mannering goes to a lawyer. He finds the rooms of the lawyer lined, not with law books, but with books of history and literature, the great authors, the classics. The lawyer points to the books of history and literature and says "These are my tools of trade." A lawyer without history or literature is a mere mechanic, a mere working mason. If he has some knowledge of these, he may venture to call himself an architect.
Likewise, Professor Lameck Goma in a memorable address: The African University and Human Understanding; at the 7th graduation ceremony advised the graduates under the topic: "The Usefulness of the Useless Disciplines". In his brilliant book, Zambia: The First 50 Years, Andrew Sardanis tells us; that waking up on the morning of 24th October 1964, as masters of our own destiny there was only one Zambian engineer, three Zambian doctors, three Zambian lawyers and some 90 other Zambian graduates. That is less than 100 graduates. So, Zambia was in desperate need of skilled people to develop the country, so disciplines like engineering, medicine, law, computer science, business, education, economics, biology, agriculture, were considered as "useful" disciplines. Whilst, for example, cultural studies, history, literature and languages, philosophy, ethics, theology, and even classics; could be considered "useless" disciplines. But Professor Goma perceived very wisely that: "These disciplines are of considerable significance in the quest for human and international understanding. To understand your own and other peoples, their outlook, their reactions and attitudes to things, you must understand their culture and social systems, their language, their history, and their contemporary Life in general. The study and teaching of these, at our universities, can and should, therefore, play a significant role not only in curing our ignorance but also our intolerance of other peoples' way of Life."
Lord Denning and Professor Goma wisely discerned the importance of history and literature, the arts, in nurturing a wholesome person and nation. These are the spirit and soul of a people and nation which give life and vision and character, in the absence of which a nation's development can only be shallow, mediocre, and superficial. More importantly above all the tools of trade or the usefulness of the useless: is belief in God. We all need in life this belief.  We also need the right role models to inspire us, to ennoble us, to be honest and decent, to have integrity, to be loving and good people who make life better for others. Such was President Kenneth Kaunda. What made him so? What made him tick?
I have a dream to share. A favourite poem of mine by Charles Péguy a French poet and writer is entitled, 'God's Dream'.
"I myself will dream a dream within you
good dreams come from me, you know.
My dreams seem impossible,
not too practical,
not for the cautious man or woman
a little risky sometimes…
But, from those who share my dreams
I ask a little patience, a little humour;
some small courage,
and a listening heart –
I will do the rest."
In one of his other writings, Charles Peguy expressed this profound thought: "Everything begins in mysticism and ends in politics." This is the foundation of how faith and politics are one. It begins with spirituality which draws us into God's love and which expresses itself in politics. Now we need to be very exact in our meaning of love. So we turn to the Greek language for help in deciphering the meaning.
The Greek has three words for love: eros, philia, and agape. Eros is a sort of sensual or passionate love, a romantic love. Philia is affectionate love between friends or family members, brotherly love, or sisterly love. Agape is unconditional love, the highest form of love, the love of God for humanity and humanity for God. Agape embraces everything it's redemptive, it's love for people because God loves them. Agape embodies justice and righteousness and opposes all forms of injustices that demean humanity. Agape is the root of justice which is the expression of love.
Here is a practical example for you from a legal context. Lord Denning whom I have mentioned equated justice with the Christian teaching of love for God and our neighbour. He illustrated it by a famous case that transformed the Law of negligence, namely, Donoghue v Stevenson (1932). This judgement delivered 90 years ago is still pertinent today. Lord Atkins' decision in Donoghue v Stevenson, and the discussion which arose, derived its inspiration from the parable of the Good Samaritan. The mandate to love your neighbour was interpreted in Law as you must not injure your neighbour to whom a duty of care is owed. This is love in a legal and social context. Do not injure your neighbour. You owe a duty of care to your neighbour.
God's love is the energy of creation overflowing and embracing all of life; it's not injures but affirming and healing and caring. And each of us are to be channels of this transforming energy of love. This is the essence of our being, centering all our life and actions.
It's this all-embracing love, Jesus Christ exuded in his love for his enemies; his non-violent response to evil; his embrace of the marginalized; his condemnation of religious hypocrites; his compassion for the poor; his disregard for boundaries of social exclusion; his advocacy for the economically oppressed; his teachings that all people are equal, men and women; it all flowed from his being in God's love.
The politics of Jesus was, is, about equality, justice, wellbeing, and goodwill because that's what we as God's children deserve. Jesus' love is wholesome politics. Likewise, as a believer in Christ, President Kaunda's faith informed his politics. He spoke about it often over and over again, summed up in what Jesus Christ said: "Love the Lord your God with all your heart and with all your soul and with all your strength and with all your mind' and, 'Love your neighbor as yourself." This was the inspiration of President Kaunda's life, his mysticism, framing and shaping him.
In his book 'Zambia Shall be Free' we glimpse this mysticism in the things that inspired his life. One of these was a book 'In Tune With the Infinite' by Ralph Waldo Trine which he took with him everywhere he went mobilising Zambians for independence. 'In Tune with The Infinite' tells us how his life connected with God and how that inspired his life in the different roles and things he did. To further appreciate the faith and politics of President Kaunda his book, "Letter to My Children", of all his books, is a masterpiece in self-scrutiny. The book is an extended fatherly letter of love and wise advice and guidance to his children and the youth of Zambia to whom he gratefully dedicated it. Looking into the future he said, "When you grow up, you will hear and read a lot about Kaunda; what he did and didn't do; his mistakes and weaknesses – and I hope you will hear a few good things as well." So he candidly, sprinkled with humour, shared the wisdom he had gleaned in life.
In 17 reflections he reflected on the tools of the trade: How it all began; Faith and values; Education and Humanism; Standards and values; Communicating with other people; Music; Quality and equality; Power – its use and abuse; Freedom and it's limits; Justice and law; Long-term goals: world community; Self-fulfilment; Courage in face of fear; Man and Nature; Thoughts on immortality; The Humanist's view of the future; and The spirit of youth; in these 17 reflections he expressed what mattered to him as a political mystic. All the reflections are rooted in his Faith and values.  I was so tempted to take you through each one.
However, I restrained myself remembering the story of a Commencement speaker at Yale University, who had the great idea of speaking about the importance of every letter of the Yale name to the graduates. So he started with Y for youth, and he went on and on about youth for 20 minutes. And then he arrived at A for ability, which you all have, and he went on and on for another 20 minutes. And from the back, somebody shouted, "Thank God we're not the Massachusetts Institute of Technology!"
It's in his Faith and values we decipher Kenneth Kaunda as a political mystic. How do we define mystic? It's mystic in the sense that such great men and women have an acute awareness of God, of their lives being shaped from the inside out, of being channels of God's will in passionately tackling the nation and world's political, economic, and social injustices. And such men and women try to live out this truth and enrich the world with their love, idealism, vision, and hope. They are reconcilers of peoples, communities, and nations. They are inclusionary not exclusionary. We think of Nelson Mandela, Julius Nyerere, Dag Hammarskjold, and Kenneth Kaunda. They are able to do so because as the German Theologian Dorothee Soelle perceived they are liberated from the three powers that typically hold humans in bondage: ego, possession, and violence. Political mystics see their political calling as to a Higher Power. And being connected with the Divine are equally connected to other humans and, indeed, to all of creation – a relationship, as Soelle said, that "borrows the eyes of God." They break the walls of divisions and build bridges of unity and community. They strive for peace and whatever nurtures the common good of people to flourish. Political mystics live out their faith, it's not a private and "otherworldly" thing but alive in their political practice.  In the words of Dag Hammarskjold, "In our era, the road to holiness necessarily passes through the world of action". And this gives meaning to Charles Péguy's insight, "Everything begins in mysticism and ends in politics."
It's in this sense President Kaunda was a political mystic. His calling was to a higher power, in tune with the infinite, God. He was conscious of this as he explained in his book Letter to My Children, written from the library of State House surrounded by all the symbols of power. Reflecting he wrote, "This is as good a point as any to start, with power, for that is what most of my life has been taken up with, how to get it, how to control it, how to share it, and most important, how to avoid being destroyed by it."
He remembered that the earliest form of power he encountered which had a lasting effect on his life was the power of the Gospel. His parents taught him to believe in God. And faith played a central role in his life. He believed in a Supreme Being whose love was the great driving force working itself out in life. For President Kaunda, God was a Presence, not a philosophical concept. He was aware of this Presence, even in solitude, that he was not alone; that his cries for help or comfort or strength were heard. Above all, his belief in God gave him a feeling of unlimited responsibility. He acknowledged that he was a guardian rather than owner of such powers and talents as he possessed, answerable for his use or abuse of them to the One who had loaned them to him and would one day require a full reckoning. The sense of responsibility seemed to be a great burden but at least it freed him from worrying too much about popularity or fame.
Dag Hammarskjold also believed that whatever gifts he possessed were to serve humanity and make the world a better place for the glory of God.  He believed that being Secretary-General of the UN was such a gift.
Let's dwell a little longer on the spirituality of President Kaunda to appreciate how significantly it influenced his decisions as a politician. President Kaunda felt God as a part of him and in moments of crisis reverted instinctively in prayer to the passionate simplicity the old religion had taught him. He believed that the spiritual dimension was an integral part of the human personality. And that if it was not developed or nurtured, it did not disappear but rather became corrupt and immoral. And could be destructive in later life as an immoral force. His faith also made him respect and appreciate other religions. Khalil Gibran the Lebanese-American writer, poet and visual artist once said: "I love you when you bow in your mosque, kneel in your temple, pray in your church. For you and I are sons of one religion, and it is the spirit." President Kaunda echoed this saying, "I happen to be one of those odd people who feels equally at home in a cathedral, synagogue, temple or mosque."
And given Zambia has many religions, Christianity, Islam, Hinduism, Judaism, Jainism, and others, President Kaunda did not think it was right to declare this religion or that 'official'. Each had the right to exist, so it was his desire that all believers of all faiths should live together in harmony; for we are all human beings.
President Kaunda hoped that Zambians would come to appreciate the spiritual power locked up in each person and which can be released by faith for the benefit of the nation. He hoped we would take our faith seriously. "Don't, I beg you", he wrote, "play around with religion. Reject the existence of God or else make him the centre of your lives but don't give him a brief and casual nod every Sunday. It's better to have a modest faith which is fully used than make grand protestations which are never heard beyond the doors of the church." Or let's say make grand protestations which are never heard beyond the doors of Parliament like proclaiming Zambia a Christian nation yet failing to live by it.
We are reminded of Macbeth's eloquent soliloquy in Shakespeare's play (Act 5 Scene 5).
"Out, out, brief candle!
Life's but a walking shadow, a poor player
That struts and frets his hour upon the stage
And then is heard no more: it is a tale
Told by an idiot, full of sound and fury,
Signifying nothing."
That's what playing with religion amounts to: '… a tale told by an idiot, full of sound and fury, signifying nothing.' But if we tell our story truthfully and plainly it can be an interesting story and in a sense a universal story. A story that tells of the different ways that God speaks to us.
Letter to My Children is about how God speaks and when taken seriously as President Kaunda did, creates a person of integrity. For a living faith nurtures integrity. A person of integrity is complete, principled, honest. A person you can trust. A person who inspires. All political mystics reflect the virtue of integrity in their lives by living up to the best in themselves.
In President Kaunda, his integrity was clearly reflected in Foreign Affairs. There are two attributes which comprehensively characterised him. First, his commitment to principles, secondly, his courage to take risks if he believed it would be helpful, without worrying about what others said. Accordingly, Zambia's foreign policy was grounded on clear principles which were applied across the board. If the action of another country violated a particular principle, Zambia condemned or voted against that country, irrespective of who that country was. If meeting an enemy was deemed necessary to help resolve a problem (such as liberation or advancing prospects for peace) President Kaunda did not shy away out of fear of being thought of as a traitor.
Another dimension to Zambia's foreign policy was that it went beyond looking out for Zambia, it was Pan-African. When for example President Kaunda met US Presidents, his agenda was always about Africa rather than just about Zambia. For example, in his visit to the White House in March of 1983 meeting with President Reagan the focus was on Namibia and apartheid South Africa. President Ronald Reagan respectfully referred to President Kaunda as one of Africa's senior and most respected statesmen who played an admirable role in international events and whose counsel was highly valued. That is why he was so influential, that everyone around the world were consulting him. President Kaunda was a man of integrity.
We think of President Nyerere as a man of integrity. Sometime in 1985, President Nyerere simply woke up one bright sunny morning, birds singing, and decided to retire. Not many Presidents wake up that way! Nyerere's leadership style was forged in integrity rooted in his faith. He liked to be present at early Mass, in his words, 'to ask God's blessing on the day's work.' His faith nurtured his character and integrity, his honesty, humility and simplicity. His faith inspired him to focus primarily on people and their welfare. It shaped his commitment, sense of direction, sense of purpose, and willingness to make personal sacrifices and to put the interests of people above his own.
We think of Dag Hammarskjold as a man of integrity.  He died tragically in Zambia then Northern Rhodesia on September 18, 1961, when his plane dubiously crashed in a forest in Ndola. The Dag Hammarskjold Memorial Crash Site was declared a national monument in 1970 and UNESCO World Heritage Centre in 1997. Dag Hammarskjold endowed the United Nations with a heightened sense of its mission through his clarity of mind, breadth of vision, unshakeable integrity, and quiet eloquence. After his death, in his Manhattan apartment, a manuscript was found on his bedside table; which he described as his negotiations with God – and was later published as Markings. It's a commentary on his spiritual journey.  Hammarskjold learned over the years to lay himself bare to the divine gaze.  And in so doing he lived the love of God, in the light of God, in the presence of God. For Hammarskjold, politics was an exercise in awareness, empathy, objectivity, and peace.  It was grounded in a life of prayer and action inspired by what he discovered in stillness and silence.
Found in the plane wreckage was a book he was reading Thomas a Kempis' classic the Imitation of Christ: it summed up his life. In his words: "It is not sufficient to place yourself daily under God. What really matters is to be only under God." It is something that leaders must nurture – the God focus. The integrity we need in our lives and the world, especially at this time.
President Nelson Mandela, like Kaunda, like Nyerere, like Hammarskjold, was a man of integrity. In his inspiring book "Conversations with Myself", he teaches us the foundation of integrity. It's an extract from a letter he wrote to his wife Winnie from prison in 1975. It's very apt for us all. Confined in a cell for 27 years he learnt to know himself, he searched realistically and regularly the process of his own mind and feelings. He wisely discerned that as individuals we tend to concentrate on external factors such as one's social position, influence and popularity, wealth and standard of education in judging our progress in life.
But for him, internal factors were even more crucial in assessing ones development as a human being. Honesty, sincerity, simplicity, humility, pure generosity, absence of vanity, readiness to serve others- qualities which are within easy reach of every soul – are the foundation of one's spiritual life. This he counselled was inconceivable without serious introspection, without knowing yourself, your weaknesses, and mistakes.  And one had to look daily into one's entire conduct, to overcome the bad and develop whatever is good in one. He advised his wife and indeed us now to meditate regularly.  You may find it difficult at first to pinpoint the negative features in your life, but the 10th attempt will yield rich rewards. And he concluded inspiringly giving hope to all, "Never forget that a saint is a sinner who keeps on trying."
Political mystics keep on trying to be people of integrity and their politics exudes morality.
Now, Prime Minister Nehru believed morality was the essential element of politics. He perceived politics devoid of vision, beliefs, ideals, principles and values as debasing of human dignity and national purposes. It's therefore telling that in 1970, President Kaunda received the Jawaharlal Nehru Award, in New Delhi, India. The Nehru Award is a celebration of political morality. So six years after Zambia's independence, President Kaunda was the deserving recipient. The Prime Minister of India Mrs Indira Gandhi read the citation in these eloquently crafted words: "In the life of every nation, there are occasions when its ethos is identified with one man, who rises above oppression and degradation and wages a struggle against them, and by his suffering and sacrifices, inspires his fellowmen to liberate themselves. Such a man is Kenneth Kaunda, the founder of modern Zambia." This was because of his belief in God.
So his opposition to injustice, racism and oppression were not just political and ideological but deeply religious as well. For President Kaunda saw people as God's children irrespective of religion, colour, creed, gender, tribe, or nationality. It was this belief that informed his philosophy of Humanism which taught that people came first. All developments – whether political, economic, social, cultural were for the benefit of people. In this light, the Mulungushi Reforms of April 1968, were about economic nationalism; 'devoted to reserving areas of business to Zambians and devising methods to assist them to grow in light of foreign businesses which had superior resources and expertise.
As we conclude allow me to draw your attention to examples of his faith in action. The setting up of the Anti-Corruption Commission and The Special Investigations Team on Economy and Trade (SITET) – which had clout was because he wanted the national resources to be shared fairly, justly and equitably by all Zambians. His faith was expressed by not tolerating tribalism. He carefully crafted Tribal Balancing System in the cabinet, in the civil service, in the parastatals, and in all the appointments he made across the country. His faith was lived out by being a passionate Pan-African. He compassionately and caringly supported the liberation movements notably the ANC of South Africa, FRELIMO of Mozambique, MPLA of Angola, SWAPO of Namibia, ZAPU of Zimbabwe, by hosting them in Zambia.
The support of the liberation movements came at great human and economic costs to the country through sanctions and military attacks from Rhodesia and apartheid South Africa. It was therefore humbling at his death that Zambia's neighbours showed their appreciation for his tremendous courage and leadership by declaring lengthy mourning periods – 10 days in South Africa and seven in Botswana, for example. A deserved homage to a man that was a political giant and respected even by his adversaries for his honesty and the Christian values that he lived by. He lived out his faith by his charismatic and wise leadership in international organisations like the Southern African Development Community (SADC), the Non-Aligned Movement (NAM), the Commonwealth, and United Nations (UN). His presence and voice always commanded respect and action. After his defeat in the 1991 election, he was magnanimous and humbly accepted the people's will and retired setting an example for all future Zambian leaders to emulate. He became the father of democracy in Zambia and Africa by creating the democratic space and accepting its results thereafter. For he recognised the people as the centre of authority.
His birthday is a moment for Zambians to celebrate a great life, to reflect, and rededicate themselves to God and the values of love, peace, unity, integrity, "One Zambia One Nation", which enthused President Kaunda.
What do we take from Kenneth David Kaunda: a political mystic?
The first important lesson is: put God first in your lives. Whatever your calling may be in this life remember God and strive to live to the very best in you and develop the gifts God has given you. Remember to: "Love the Lord your God with all your heart and with all your soul and with all your strength and with all your mind' and, 'Love your neighbour as yourself.'" For these two commandments are the essence of life which the ancient prophet Micah condensed in these ageless words: 'He has shown you, O mortal, what is good. And what does the LORD require of you? To act justly and to love mercy and to walk humbly with your God.' This is the first important lesson we take.
The second take is the importance of education. People are the most important resource a country has. The early years of Independence saw huge investments in education. I stand here because of that, however, over the years there has been a deplorable decline in huge investments and in educational standards and crumbling infrastructures. If we have to progress as a nation we need to invest again hugely in a high standard of education for all Zambians. With proper education Zambians will know their civic responsibilities; make informed choices at the polls making democracy more viable; and strengthening of institutions uncompromising in their commitment to the rule of law and protection of human rights. So, education, education, education is our second take and what we must strive for in honouring the legacy of President Kaunda.
The third take is integrity. We are all unique beings made in the image of God. Integrity is about living the truth. As the Czech President Vaclav Havel, wisely said, 'The desire to be in touch with what is true and to live by it in all its consequences, is deeply embedded in human beings. We cannot live falsely for long; truth has a radiant power that cannot be quenched…we cannot live for long 'within the lie'. We each express and incarnate a different dimension of God. We each walk a unique pathway through life. We have our own works, gifts, difficulties, and commitments and in all these experiences that make up a person's life, God blesses others and the world by what we are and do. A life of integrity is such a blessing.
The fourth and final take is to preserve, protect, progress, and value our culture, our heritage, our history. This is what defines a people and gives them their identity. Marcus Garvey wisely wrote, "A people without knowledge of their past history, origin, and culture is like a tree without roots".
So President Kaunda's book 'Letter to my Children' is a pertinent message to all the youth of Zambia who has no idea about: faith, principles, values, heritage, and history. It's a message of how Zambia came about, the challenges and difficulties it faced; the successes and failures it experienced; what we learnt from it all; and how we can build a better Zambia.
It's also a challenge to all of us on this his 98th birthday in the historic words of President John F. Kennedy's inaugural address to: "Ask not what your country can do for you – ask what you can do for your country."  The challenge is to every Zambian to contribute in some way to the public good.
President Kenneth Kaunda and our founding fathers and mothers sacrificed a lot for our independence and laid the foundation stone of this nation we call Zambia today. Their history forms a major part of the heritage we bequeath our future generations. A nation of a people, that don't have knowledge or an appreciation of their history is doomed to go into oblivion. It is for this reason that, as I conclude my speech, I implore that Kaunda's history and his colleagues should be embedded in our early school curricula. It should be a central and vital part of learning in our schools, and universities otherwise, how should we be expected to understand the rest of the world and how we relate to it if we have no appreciation of our own history and whence we come? This will help instill an awareness of the responsibility of self and a sense of patriotism to the country, among our children, and the future leaders of this nation.
Indeed, what better way would there be to remember and honour this great man, freedom fighter, statesman, and yes, teacher than ensure that his great history, nay our history lingers in the hearts of our nation?
So today we give thanks to God for the life and service of President Kenneth David Kaunda: A Political Mystic who inspired by his faith lived to make Zambia and our World a better place.