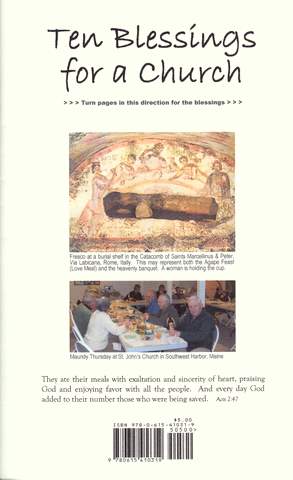 Fifty years as an Episcopal priest in America and Africa have shown Swanson ten things we do wrong in church (him included) and ten blessings that bring us closer to what we were like in the early church.
Two Books in One:
1) Ten Blessings for a Church
&
2)Â  Ten Reasons to Find Another Church
By George Swanson
To Order with PayPal or Credit Card:Â Â  Click Here
"Hits every nail on the head."            – The Rev. Deacon Robert T. Coolidge
Bob is the retired professor of medieval history, Loyola College, Montréal.
He founded the Canadian Fund for the Diaconate.
"Very well written."                             – Phineas Sebowa Gitta
Microbiologist and lifelong Anglican from Uganda.  Phineas' family was persecuted under Idi Amin.  When he was Senior Warden of St. George's Church, Kansas City, the parish opened a halfway house for federal ex-offender women in the parish house next to the church.
"The book is clever, simple, spot on, and full of love."
– Ann Cox Halkett
Ann is the Development Writer and Foundations Manager at the Mount Desert Island Biological Laboratory
"It's delightful – and sound and so crisply economical of words as
to allow what Church is really all about to shine through.  And the apologia pro vita sua sandwiched between the terse decalogues shows that it all came about because the writer let what it's all about shine through his life."                               – The Very Rev. Dr. Harvey H. Guthrie
Harvey is the Dean Emeritus, Episcopal Divinity School, Cambridge, Massachusetts.
"I've read your very sturdy and feisty and beautifully designed manifesto and I think it's great.  Sounds and looks just like you!!"
– The Rev. Dr. Deborah Little Wyman
Debbie founded the Ecclesia Ministries & Common Cathedral which is a community for people experiencing homelessness and for suburban parishes who want to be involved with unhoused people.
Readers say . . .
"It's delightful."  -  "Fantastic book, I love it.  Challenging and inspiring in all the right places.  And I'd love some more, at least 10."  –  "A book for the twittering texting generation – i.e. distilled"  –  "Your focus on "quiet" in church hit a responsive chord with me.  Some of my most pleasant memories concern my assisting at the 7:30 am Holy Communion service in the cathedral my last three years in high school, a small handful of worshipers, the canon and me.  A wonderful way to worship."  –  "Sent one to my second cousin, she's a priest in Florida."  – "Most everyone in the adult class took one."  –  "That's it in a nutshell."  -  "Please send 3, make that 4 more.  I've already sent your tome to 'young' Ken so I need more for myself because I'll not be able to hang onto it."