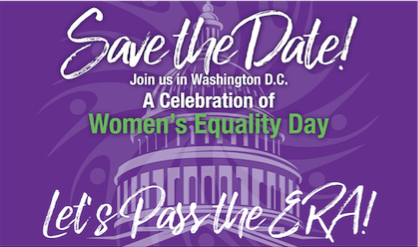 Katrina's Dream is partnering with ERA Action and they are holding their 3rd ANNUAL WOMEN'S EQUALITY DAY CELEBRATION  in Washington, D.C. from August 24th thru August 27th, 2017 to prioritize and promote the Three State Strategy to pass the Equal Rights Amendment.
The Equal Rights Amendment
Section1.   Equality of rights under the law shall not be denied or abridged by the United States or by any state on account of sex.
Section 2.  The Congress shall have the power to enforce, by appropriate legislation, the provisions of this article.
Section 3.  This amendment shall take effect two years after the date of ratification.
The E.R.A. is a U.S. Constitutional Amendment that would empower all women and provide for gender equality.  The E.R.A. is the unfinished business of the Civil Rights Movement.  Let's Change the World!
THE SCHEDULE
Friday – August 25, 2017
Friday is chocker block advocacy work both on the Hill and virtually.  Starting with the Thunderclap: U.S. Congress – Hear Us Now calling for the Senate and House Judiciary Committees to hold hearings on S.J. 5 and H. J. 53.  Activist will gather at the Cannon Building to get briefed and pick up their advocacy packets.  From there we shall have our first of several meetings. Then break for lunch. Reconvene at the Kennedy Caucus Room and hit our next series of meeting.
That evening a inspiring performance of   24 Words, the Rock Musical at St. Stephen's and the Incarnation will be open to public free charge so get your tickets here as seating is limited. For your free tickets Click Here.
| | | |
| --- | --- | --- |
| Time | Â  Event | Location |
| | | |
| 9:00 AM | Â Press Conference | Cannon Bldg. |
| 11:00 AM | Â Meetings | Senators |
| 12:00 PM | Â Lunch | Lunch |
| 1:00 PM | Â Meetings | Representative |
| 7:00 PM | 24 Words, Â the Rock Musical | Â St. Stephen's and the Incarnation |
Saturday – August 26, 2017
The day begins with a prayer service at 9:30 am at St. Stephen's and the Incarnation.   Followed by march to the White House where we will join up with demonstrators around 12:30 pm and proceed to the Upper Senate Park at the U.S. Capitol. Where the rally will begin at 1:00 pm. The speakers will talk about the intersectionality of racism and sexism, and systemic issues that the E.R.A. would address. They will share their wisdom and personal experiences on the Racial Gender Pay Gap, women's health care, violence and the rape culture women live with everyday.
The day culminates with a second performance of 24 Words, the Rock Musical at St. Stephen's and the Incarnation.  For your free tickets Click Here
| | | |
| --- | --- | --- |
| Time | Â Event | Location |
| | | |
| 9:30 AM | Â Prayer Service | St. Stephen's and the Incarnation |
| 11:00 AM | Â Walk | St. Stephen's and the Incarnation |
| 12:30 PM | Â Protest | White House Sidewalk |
| 1:00 PM |  Rally | Upper Senate Park – U.S. Capitol |
| 7:00 PM | 24 Words, Â the Musical | Â St. Stephen's and the Incarnation |
Sunday – August 27, 2017
Sharon J. Hill, National Engagement Director for Katrina's Dream will facilitate an Equal Means Equal Teach – In Workshop.  The Workshop has many notables leading the various section, which will cover the ABC of organizing and advocacy work. will cover the following  To see the course curriculum Click Here