Join us in Washington DC this coming August 26 – 27, 2018
Celebration -August 26, 2018
Liturgy for the Thanksgiving for the Ordination of Women
The Liturgy for the Thanksgiving for the Ordination of Women will be held at the National Mall, Washington, DC, USA.  Area 1 (Place where the President is Inaugurated)
Folks will begin to gather around 2:30 pm.
The service will begin at 3:00 pm.
The Rev. Caron A. Gwynn will celebrate the liturgy with an adaptation from Enriching Our Worship Prayer 3 and music.
Please click here to view the  Liturgy in the Thanksgiving National Mall.B. The Revised Communion Liturgy
To view Special Use Permit please click here.
Nationwide and Global Celebration
This year churches here in the United States of America and around the world will be celebrating Women's Equality Day in the church using the below liturgy.
To download a copy liturgy crafted by Rev. Katrina Swanson and Rev. Jonathon Appleyard in 2004 Â Click Here
Helene de Boissiere – Swanson will attend a function at the Sewell Belmont as the Founder of Katrina's Dream along with other national leaders of women's organization to honor Supreme Court Justice Ruth Bader Ginsburg.
A Cloud of Witnesses – August 27, 2018
Briefing
Briefing starts at 10:00  am in the John F. Kennedy Caucus Room, which is located in the Senate Russell Building SR – 325.
Nationwide  Thunderclap  Campaign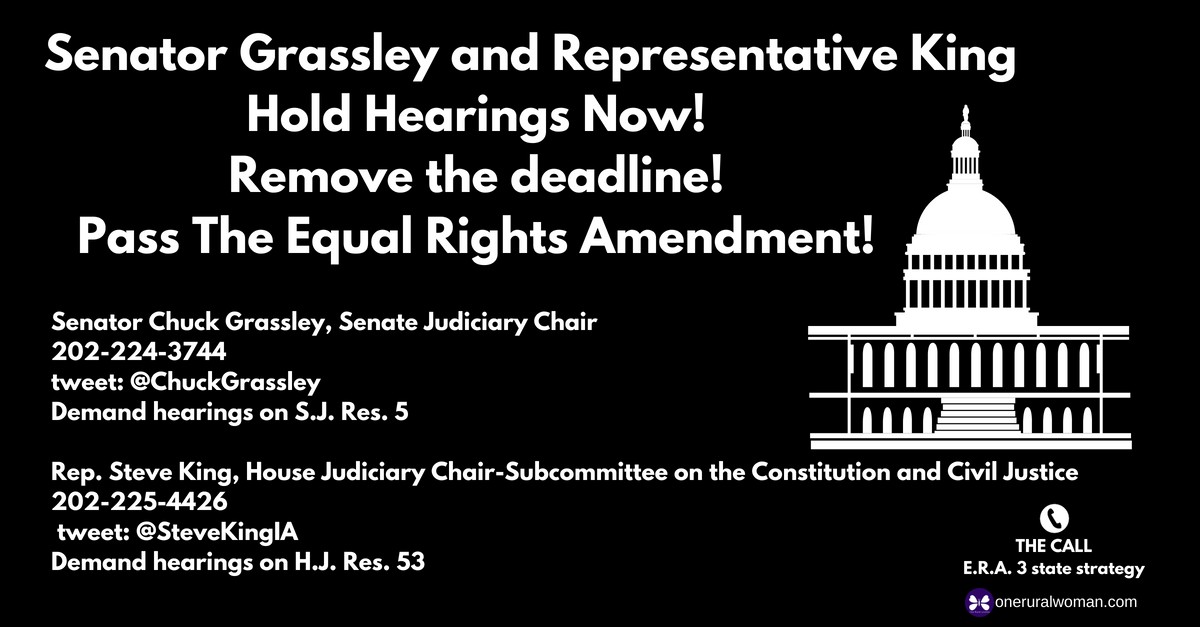 Starting at 10:00 am folks across the nation will call Senator Grassley and Representative King's office to demand that they hold hearing on Senator Benjamin Cardin's bill S.J. Res. 5 and on Representative Jackie Speier's bill H.J. Res. 53. Then folks will deliver to Senate offices the 2018 Katrina's Dream – US Congress Education and Advocacy Pack
Join the Thunderclap in demanding that our U.S. Congress hold hearings on the Equal Rights Amendment.  Click Here.
For a sample telephone script Click Here.
Meetings
Meetings at Senator Chuck Grassley's at 11:30 am, located in the Senate Hart Building, SH – 135
Folks will disperse to drop by senator's office for advocacy pack drops at the remaining U.S. Senate offices.
Lunch Break – 12:30 to 1:00
Folks meet up at Meeting place will be updated shortly.
Meeting at Representative Steven Kings to be announced.
To help email organize@katrinasdream.org