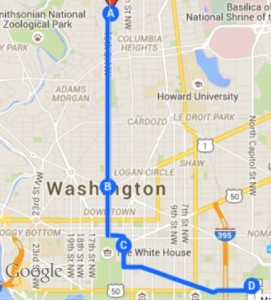 Route from St Stephen and the Incarnation Episcopal Church to Upper Senate Park, National Mall
Here is map and detailed step by step route that feminists, and human rights activists are taking on their march to the US Capitol for the Equal Rights Amendment.
St Stephen and the Incarnation Episcopal Church, 1525 Newton Street NW, Washington, DC 20010 - 4.2 miles
1. Â  Â  Â  Â Head northwest on Newton St NW toward 16th St NW,
2.        Turn left onto 16th St NW, 1.8 mi.
3. Â  Â  Â  Â To and across Lafayette Square
4. Â  Â  Â  Â To Pennsylvania Avenue in front of the White House (1600 Pennsylvania Ave. NW)
5. Â  Â  Â  Â Pennsylvania Avenue, NW to Third Street, NW
6.      Cross Third Street to the east sidewalk; Entering Capitol Grounds
7.      North on Third Street, NW to Constitution Avenue, NW
8. Â  Â  Â  Â Â East on Constitution Avenue, NW to First Street, NW
9. Â  Â  Â  Â Â Cross Constitution Avenue to the north sidewalk of Constitution Avenue, NW
10.       Continue east on Constitution Avenue, NW to Upper Senate Park, Area 2, 200 New Jersey Avenue Northwest, Washington, DC 20001