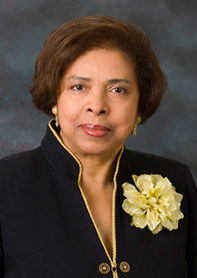 Dr. E. Faye Williams is President and CEO of the National Congress of Black Women, Inc. and former Counsel to the U.S. Congress' DC Sub-Committee on the Judiciary and Education. She's served as Legislative Counsel and Chief of Staff for the late Council member Marion Barry. She's appointed by President Barack Obama to the Presidential Scholars Commission and serves as a Presidential Partner. She holds a BS Degree (magna cum laude) in Speech, English and Dramatic Arts from Grambling University; a Master's Degree in Public Administration from the University of Southern California, a PhD in Public Administration from City University of Los Angeles; Administration and Supervision Credential from UCLA; Juris Doctor from Howard University School of Law, Doctor of Ministry from Wesley Theological Seminary, and an Honorary Doctor of Theology from Bethesda Biblical Institute of India.
She's a peace and human rights activist, author of 4 books — one of which is entitled The Peace Terrorists, that chronicles her 40 day peace mission in the Middle East leading up to the first Gulf War, and her most recent book is entitled THE TRUTH Shall Set You Free. She was the first Black person to run a viable political campaign for the U.S. Congress from Louisiana – narrowly missing victory by 6/10th of 1% after a mysterious "computer breakdown". Supporters often refer to her as "Louisiana's Congresswoman in Exile". She was a news talk show host for "Focus on the African World" for several years on Radio One in Washington, DC. She later hosted "The George
Washington Carver Health and Wellness Show" on WWGB Radio in Maryland. She is a regular host and guest on WPFW-FM in DC, regular guest on "The Bev Smith Show" in Pittsburgh, "The Jim Engster Show" in Louisiana and "Urban Forum NW" on KKNW in Seattle. She has co-hosted the "Women's Hour" on Sirius XM Radio 127, Make it Plain—and is now a regular on the show. She is a weekly contributing writer to Trice-Edney Wire Service, The Afro American of Baltimore and a regular columnist for several magazines and blogs. She has been a guest on CNN, CBC, TV-ONE, BET, Good Morning America, Hardball, C-Span and many other television programs.
​She is a Life Member of Delta Sigma Theta, the NAACP and the National Congress of Black Women. She is a member of the District of Columbia Bar Association, and Alpha Kappa Mu National Honor Society. For 10 years, she served as President of the Grambling Alumni Association, and a Shreveport, LA area Chapter was named in her honor. She works with many other business, education, professional, peace, human rights and civic organizations – from which she has received hundreds of honors—including OIC's Key to Success Award in business. Another of her many honors includes the Council for the National Interest's They Dare to Speak Out Award for her international work on peace and human rights. She was inducted into The HistoryMakers, and received the Zeta Phi Beta Community Service Award. She is a member of the Grambling University Hall of Fame and the United Nations Association.
She has been a recipient of the Iota Phi Lamda Sorority's Woman of the Year Award. She received the Star Performer Award from the Asian Benevolent Society for her work in creating diversity and promoting business opportunities in Washington, DC among the various cultures. She traveled to Damona, Israel to receive the Humanitarian Award from the African Hebrew Israelites. She received the Winnie Mandela Endurance with Dignity award from the Support A Child Foundation, Inc., Community Service awards from many organizations, and Woman Entrepreneur of the Year award from the Indiana Black Expo. She recently received the "I Rise Award" for her work on Domestic Violence and the Woman of Courage Award from the National Women's Political Caucus, as well as the NAACP Presidential Legacy Award. She is currently one of the lead spokesperson for the Equal Rights Amendment.
​
She was inducted into Ford Motor Company's Freedom Sisters, into Who's Who in Black DC in and Indigo's Sisterhood in 2008. She was recognized as one of Ebony Magazine's "100 Most Influential Black Americans" and "Power 150." She's a Louisiana native, and comes from a family of nine children. She is a member of the Board for the Mervyn M. Dymally African American Political Institute at California State University—Dominguez Hills, CA. She, along with Joe Madison of Sirius XM Radio, led the effort to get the Hollywood Star for Dick Gregory and she is Treasurer for the Dick Gregory Foundation, as well as a member of the Clifford House Board of Directors for Youth.
She is an Ordained Minister of Greater Works Christian Church in Suitland, Maryland.