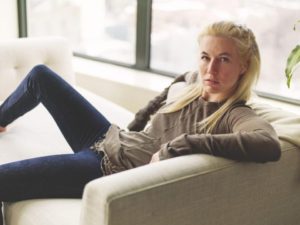 Natalie White is a provocative and progressive feminist and artist, best known for her self-portrait work with Giant Polaroid Photography and as a crusader for women's rights. Following her solo show at The WhiteBox Foundation in NYC she led a 250 mile march from NYC to DC to raise awareness for the Equal Rights Amendment. The day after the march was over she painted ERA NOW 20 feet long on the U.S. Capitol in broad daylight, getting arrested a week later. She plead not guilty and represented herself at the trial that took place 2 days before Trump's Inauguration and 3 days before the Women's March in DC. With character witnesses that included Academy Award winning actress Patricia Arquette and Award winning film maker Kamala Lopez, White was found guilty but only given a $50.00 fine and a 6 month stay away from the Capitol, with the provision that if she was going there to lobby for the Equal Rights Amendment she could go on Capitol property.
She was able to make the trial into a media circus appearing on MSNBC, Forbes, in The Washington Post, and Vice to name a few. The Equal Rights Amendment failed ratification in 1982 coming up 3 states short of the deadline. But after a Supreme Court decision stating that states could decide whether an amendment was viable even after its deadline had lapsed- this year Nevada became the 36th state to ratify leaving us only 2 states short of equal protections under the law. The Equal Rights Amendment could end systemic pay discrimination and pull 30 million women and children out of poverty that wouldn't  be if women were just paid their full dollar.
Natalie has teamed up with Equal Means Equal and Blue State Digital- who did digital marketing campaigns for Obama 2008, Obama 2012, and Freedom to Marry to name a few https://www.bluestatedigital.com/ Their campaign includes a free concert on the National Mall in Washington, DC in September for which Natalie successfully secured the permit herself.