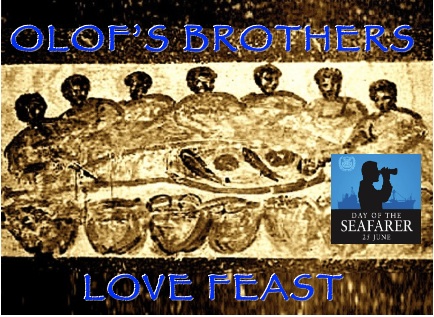 When William and Helene Swanson first moved into the Sausalito Shipyard and Marina (formerly known as The Arquez) in Sausalito, California in 2004, Lee Caldwell, a neighbour of ours gave us two bronze Ecclesia Crosses. A few years later these crosses would come to have significant meaning to us here at Katrina's Dream.
Katrina's Dream founded in memory of the Rev. Katrina Van Alstyne Welles Swanson, was more than the first woman priest to have a parish. She was a wife and mother.  When the people of Bar Harbor, Maine honored her with a bench dedicated in her honor, she requested that it be made available to travellers like her son E. Olof  Swanson to sleep on at night without being disturbed. She wanted her son to know how much his life meant to her.  That his walk down the aisle as an acolyte at the ordination of the Philadelphia Eleven was equal to hers.
In researching out his book 10 Blessings for the Church George Swanson stumbled upon the Ecclesia Common Cathedral program in the Boston area.  Around the same time, William who was staying at Rev. Kathyrn Piccard's home while attending Episcopal Divinity School was invited to the same service, he was moved by the service. Then in 2010, George Swanson shared his dream of an outdoor agape meal. Having years of experience working with the homeless.  William and Helene set out to create the program.  We did so with both Katrina and George in mind.
On Saturday, June 4, 2011, Olof's Brothers celebrated its first Love Feast at Dunphy Park, Sausalito, with the St. Vincent de Paul Society providing the main course.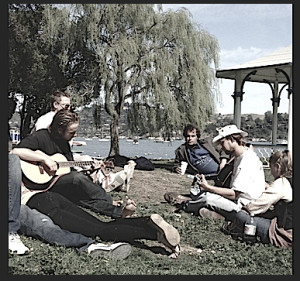 The weekly Saturday program now has the full support of Sausalito's Vice Mayor Jonathan Leone and congregants of Christ Church Sausalito. Coffee and pastries are donated through the generosity of Brayth Burdios, Store Manager of the Sausalito Starbucks Coffee Company, receives donations of coffee and pastries.
William and Helene Swanson have big plans for this program and look forward to hearing back from all who are interested in learning more. And they can always use a little help.  Please feel free to contact them at helene@katrinasdream.org.
UPDATE #1:  Harry de Boissiere-Rudl has stepped up to the plate, following in the steps of his late stepfather William Swanson and will be running the program while his mother Helene is walking across America to promote the Equal Rights Amendment and the other ministries of Katrina's Dream.
UPDATE #2: Those who live o anchorage are facing difficulties.  To read more on their plight Click Here
A Blessing for Olof's Brothers
Blessings for you and yours.
May all be welcomed non-believer and believers alike.
May your church flourish.
May she grow strong in your loving arms.
May she be a light in a community
for others to come to the table and
explore their relationship
with the universe and God.
Love and Light in Christ
Flyer        To view the flyer, please click here.