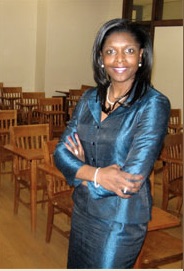 Dr. Kimberly S. Adams is a professor of political science and the owner of Adams Political Research & Consulting. A longtime political activist who worked as an intern on Capitol Hill in two Congressional offices in the mid-1990's. She has participated in intensive campaign training seminars on women and politics and grassroots mobilization. She has served as a part-time, senior research and issues consultant for the Mississippi Policy Forum and is a veteran of numerous federal, state and local candidate and issue campaigns. In 2015, she was appointed to serve as an American Fellowships Selection Panelist for the American Association for University Women.
Dr. Adams' areas of teaching include American National Government, Women and Politics, Racial and Ethnic Politics, Political Parties, Political Communication, the American Presidency, the Legislative Process, Senior Seminar, and Campaigns and Elections. In 2013, she was selected to serve as a faculty leader for the Washington Center's (TWC) "2013 Presidential Inauguration Seminar" and has served as a faculty leader for various National Convention programs sponsored by TWC over the last decade. Dr. Adams also taught American Government at Georgetown University and Yale University, through the Junior Statesman Program, in 2005 and 2006 respectively.
During the summer of 2013, Dr. Adams was appointed to the TWC's Academic Seminar Advisory Council. In 2011, she served as a Breakfast Keynote speaker for the National Organization of Black Elected Legislative (NOBEL) Women Annual Legislative Conference in Baton Rouge, La. In January 2011, Dr. Adams served as the Keynote Speaker for the DC Veteran Affairs Medical Center's MLK program. In 2010, she was named as an MLK Ambassador of Service by the Corporation for National and Community Service. In July 2008, Dr. Adams appeared as a political commentator/analyst on Fox News's Hannity and Colmes program.
Dr. Adams received her B.S. and M.S. degrees in Political Science at the University of Southern Mississippi and her Ph.D. in Political Science at the University of Mississippi. She is a member of the American Political Science Association, the National Organization for Women, Alpha Kappa Alpha Sorority Incorporated, Phi Kappa Phi National Honor Society, and the American Association of University Women. She sits on the Alumni Advisory Board for the Washington Center for Internships and Academic Seminars in Washington, DC; the Administrative Board for Community Services Block Grants in Monroe County, PA; and in 2014, Dr. Adams was appointed to the Editorial and Reviewers' Board for the Athens Journal of Social Sciences in Athens, Greece.
Dr. Adams' research explores the agenda setting behavior of non-traditional legislators (i.e. – women and African-Americans). She has presented academic papers on women and politics at the state, national and international levels. She studied British Law and Politics at King's College in London, England, has participated in the Salzburg Seminar in Salzburg, Austria, and at the Oxford Round Table in Oxford, England.
This past summer, Dr. Adams' presented her work "Principle or Politics: Opposition to the Violence Against Women Reauthorization Act (VAWA) of 2013" in Brussels, Belgium, where she explored the rationale behind twenty-two U.S Republican Senators opposing VAWA . In 2014, she presented on VAWA in Barcelona, Spain. During the summer of 2013, Dr. Adams presented her research on the utility and evolving role of the Congressional Black Caucus at the Euro-American Conference in Paris, France. During the summer of 2012, Dr. Adams presented her work on women in Latin American Parliaments in Prague, Czech Republic.
In July 2011, Dr. Adams gave a presentation on media bias and female candidates in Madrid, Spain, at the eighth biennial meeting of the International Association for the Study of Sexuality, Culture and Society Conference. Dr. Adams has also presented research and/or given speeches in Honolulu, Hawaii; Athens, Greece; Rijeka, Croatia; Amsterdam, Holland; and Melbourne, Australia.
Her most recent publications include: "A Decade of Progress: Increased Representation of Women in the Parliaments of Ecuador, Nicaragua, and Costa Rica"; "Gender Equality in Sub-Saharan Africa: The Journey that Began with a Stroke of the Pen"; "Speaking through Multiple Voices: The Congressional Black Caucus and the Obama Presidency"; Female Representation in Latin American Parliaments: Factors that Influence Representation." Dr. Adams' most recent co-authored articles include: "Landmark Reform: An Examination of Support for the Healthcare Reform Bill among Minority Groups in the 111th Congress and "Mississippi: An Emerging Democracy Creating a Culture of Civic Participation among Formerly Oppressed Peoples."
Dr. Adams is currently conducting research on the utility and evolving role of the Congressional Black Caucus. She is a member of numerous organizations including the American Association for Political Consultants (AAPC) and the National Conference of Black Political Scientists.