A first Monday of the month Candlelight Vigil monthly at San Quentin Prison, Marin County, CA.
Update
Due to the untimely death of Katrina's Dream founder William Swanson this program is being re-visioned as we identify new ways to address the atrocities visited upon those imprisoned.  William was the instrumental in the founding of Katrina's Dream, his life philosophy has shaped all that is to come.
Background on Program
On October 19, 2012 William Swanson discussed the pro's and con's of the Death Penalty  from a theological perspective with attendee Jim E. Adams at the 163rd Diocesan Convention of the Diocese of California. Active in prison law reform, the small group has been holding vigils since February 7th, 2011.(http://www.indybay.org/newsitems/2011/01/28/18670488.php) The group felt compelled to bring attention that the previous January, Governor Brown granted an extension to the Department of Corrections to amend their budget to include $356 million for remodeling (http://www.ccpoa.org/news/monthly/2011/01/ page removed by California  Correctional Peace Officers Association) and that U.S. District Judge Jeremy Fogel would be inspecting last years remodel at a cost of $900,000. The February vigil garnered extensive coverage by the local networks. (http://www.ktvu.com/news/news/judge-to-tour-san-quentins-new-death-chamber/nKhdR/page removed by KTVU)
Advocacy Action
Katrina's Dream will be holding a Candlelight Vigil and Community Assembly on February 3, at 4:30 pm. We will meet in front the West Gate of San Quentin Prison. People of all faiths will be gathering, calling on Governor Jerry Brown and our Legislators to Close the Death Chamber at San Quentin Prison and abolish the Death Penalty here in California.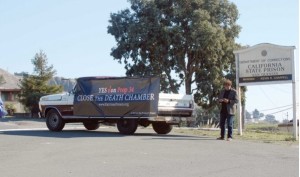 A small group from Katrina's Dream, have been holding a monthly candlelight vigil every first Monday since February 7, 2011. Unfortunately, the lead organizer passed away unexpected. Please see http://www.marinscope.com/sausalito_marin_scope/news/article_3cb33422-cee3-11e2-bcd5-0019bb2963f4.html?mode=image&photo=0
We are bringing back the vigils and need your support, presence and prayers more than ever. We are asking that you share the news of this vigil with all your friends and family. We hope that people of State of California will stand up and say, "NO MORE KILLINGS – NOT IN MY NAME".
To attend in spirit please visit
http://www.facebook.com/events/228439577279777/
The event can also be seen by those who are not on Facebook at:
https://www.indybay.org/newsitems/2014/01/17/18749337.php
For further back ground
http://www.prnewswire.com/news-releases/katrinas-dream-to-hold-election-day-vigil-at-san-quentin-prison-176862751.html