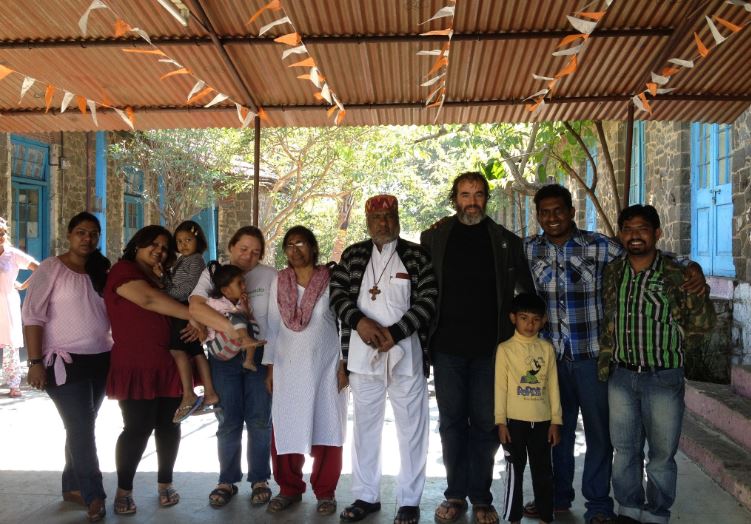 On August 22nd, 2012 the Rev. Magda  Kamble of the Garrison Church at Camp Deolali, India, a struggling congregation of the Church of North India serving the Indian Army reached out with blessings to the members of Katrina's Dream asking that they come to India and visit her church. The following December William and Helene travelled to India and after a heartfelt discussion with the Bishop of Nasik the decision to bring Katrina's Dream was born.
William G. Swanson's Good Evening Family and Friends sermon on Indian Family Values at the December 24th, 2012 Night Watch Service
In February 2014, preceding Helene Swanson's pilgrimage across the USA for the Equal Rights Amendment, Helene travelled back to India and was blessed by Bishop Pradip L. Kamble, Diocese of Nasik, Church of North India for her work here in India and in the United States of America. Please see the Indian Spirit and American Will presentation Helene gave to the clergy gathering for the Diocese of Nasik by clicking here.
After finishing her 10,000-kilometer pilgrimage across the United States for the Equal Rights Amendment. Helene returned to India to launch Katrina's Dream – India.  And on December 4, 2015, Helene was honoured for my ministry of promoting women's rights in the United States and here in India at the conference held by the bishop at the Diocese of Nasik
Helene is currently organizing a women's empowerment summit based on the critical areas of importance as detailed in the Beijing Declaration and Platform for Action. The areas are:
Women and Poverty
Education and Training of Women
Women and Health
Violence against Women
Women and Armed Conflict
Women and the Economy
Women in Power and Decision-Making
Institutional Mechanisms for the Advancement of Women
Human Rights of Women
Women and the Media
Women and the Environment
The Girl Child
The impact of the summit will be tremendous.
In the months to come, we will update this page accordingly.  For those interested in learning about how they can help please free to email Helene Swanson at Helene@KatrinasDream.org