Condolence Message from the President of Zambia's United National Independence Party (UNIP) on the death of Archbishop Desmond Tutu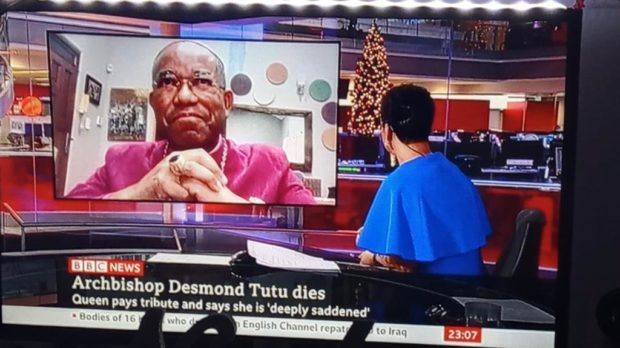 The President of Zambia's United National Independence Party (UNIP),  Bishop Trevor Mwamba has expressed on behalf of his Party and himself to the family of Archbishop Emeritus Desmond Mpilo Tutu; the Anglican Church of Southern Africa, and the nation of South Africa, his deepest condolences, on the death today, 26th December 2021, of Archbishop Tutu.
Bishop Mwamba stated that his thoughts and prayers were with the Tutu family.
Bishop Trevor Mwamba stated that Zambia had an abiding recollection of Archbishop Tutu's invaluable contribution to the liberation of South Africa, particularly during his tenure as Secretary-General of the South African Council of Churches when he fearlessly championed the struggle and on numerous occasions met with the founding father of the Republic of Zambia and UNIP the late President Dr Kenneth David Kaunda.
Personally, Bishop Mwamba further stated, that he had many wonderful memories of Archbishop Desmond Tutu going back to 1982. Archbishop Tutu was a dear Father in God, mentor and friend.
He was a wonderful person of many parts. Simple, humorous, brave, honest, vivacious, his life was fully alive. In the words of Saint Irenaeus: "The glory of God is man fully alive.
Archbishop Desmond Tutu, indeed, reflected the glory of God of a man fully alive who toasted the gift of life occasionally with a glass of rum and coke!
In the glory of God Archbishop Tutu was profoundly a Man of God. A good shepherd and pastor who lived his life in the service of others.
He was inspired and driven to fight against all forms of injustice and oppression in the world. He was a great defender of human rights for all.
He was a prophet and moral conscience of our time who constantly pointed us to our shared humanity. This shared humanity was envisioned in what he termed a Rainbow Nation to describe post-apartheid South Africa in 1994.
The Rainbow Nation meant the unity of multiculturalism, multiethnic, multiracial, and multifaith, in the coming-together of people of many different nations, in a country once identified with the strict division of white and black under Apartheid.
Archbishop Tutu also saw this Rainbow as embracing the world. For we are all God's children. This was rooted in the Christian teaching and values and concept of Ubuntu which he regularly referred to in his speeches and in his books.
His death has impoverished the world of a colossal moral giant who enriched the world with his love, his tears, and hearty laughter.
We commend his soul to God to rest in eternal peace and rise in glory.
-40-