Holy Week – Holy Month! The Good News from Katrina's Dream on the ERA and more!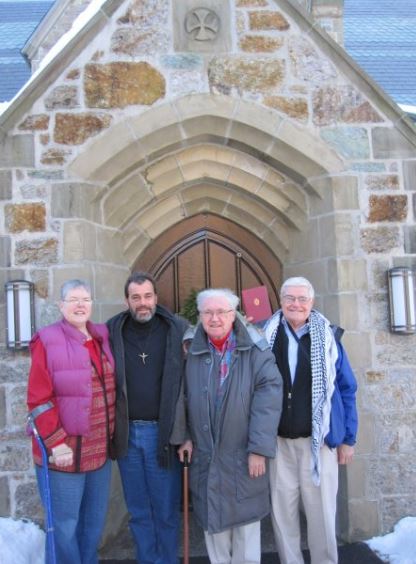 18th of April in the year of our Lord 2022
Dear Friends and Family,
We are passing through a great storm; things seem dire. This too shall pass. Silver linings and rainbows lie ahead. All is good.
I have been fasting for several days alongside Katrina's Dream's Middle East Consultant,  Mahmood Abdulrahim Al'Said Al'Balushi, in observance of Ramadan and will do so until the end of the month. At my hybrid Torah Study Group at Temple Micah, in D.C., the reading Shir Hashirim (Song of Songs) — Chaps. 1-8, was stirring and insights exchanged were enlightening. And what a delight to catch The Rev. Este Gardner's Easter Sunday Sermon at St. Bartholomew's Episcopal Church in White Plains, NY.
During this past Holy Week, I conducted one-on-one with all of Katrina's Dream board members updating them on all the news coming from The Hill and our future endeavours.
Katrina's Dream is focusing on SJ Res 1/HJ Res 17 which calls for removing the deadline on the Equal Rights Amendment and is in the Senate Chamber.  Our in-person meeting with Leader Schumer's office is on target with so many dedicated folks attending. So far we have Carolyn Casper, Sharon J. Hill, Katherine "Kobby" Hoffman, Lisa Sales, Jean Sweeney, and of course the fabulous artist Natalie White.
More on Jean Sweeney of Rethinking Eve. She is simply unstoppable. Hats off for persistence your Hail Mary Pass approach has lit a fire and hot seat. You go Gal! Now, wouldn't it be nice if the Senate held the vote, while the Biden/Harris administration working with the National Archivist published as soon as possible?
Before I get ahead of myself there are some new programs that I pray you will support.  A couple of weeks ago Kamala Lopez shared that a dear friend whom was featured in her award-winning documentary Equal Means Equal was in dire need. Thus, we came together with the help of Sharon J. Hill and The Leesha Gooseberry Team Project was born. It is an amazing concept and with everyone pitching in will have some serious legs.  Please pray for Leesha and send your support to the fundraiser.  We will keep you updated.
Tammy Simkins, a disabled widow who founded ERA Action with Cathy Kaelin,Portia Boulger, Jason Kinnamon, and Heather Welshimer, is in the early stages of conceptualising the Widow's Walk to honour her late husband Tom Simkins. Tom stood by his wife on her own quest for Equality and because of the one on one support I , as a widow myself, was able to provide her, she was inspired to honour her husband's legacy while helping other widows in her community. We will be learning more about this over the months to come.
Then getting back to Kamala, she wrote this Birthday blog and I recommend that everyone reads it and subscribes to her Youtube Channel. Happy Birthday Sweetie! I hear that her husband has other awesome projects in the works. So show them your love too. Just google Kamala Lopez and Joel Marshal. She is a woman on the Move.  A true Rising Star.
At the upcoming Ecumenical Advocacy Days 2022 conference this coming April.  And just [ike at the UNCSW66 where we held The Equal Rights Amendment; Faith and Politics co-hosted by Equal Means Equal we have an Exhibitor's Booth.
We also look forward to seeing many of you at our Exhibitor's Table at the 80th General Convention of The Episcopal Church, we are Booth #301. So drop by. Then we return to Canterbury, England to share the Good News of Katrina's Dream growing ministry  where we will celebrate the A Liturgy in  the Thanksgiving for the Ordination of Women on July 29 at the 2022 Lambeth Conference. The liturgy written by Rev. Johnathon Appleyard, Rev. Katrina Swanson, and George was the last service that was celebrated by Katrina at St. Saviours in Bar Harbor. And during the pandemic at St. Saviour's, before that the US Capitol Senate Area 1, St. Stephen's and the Incarnation to name a few.
We have plans to Celebrate the Life of George Swanson with an agape meal on June 26, 2022, just as George and William discussed.  Leading to William creating the Sausalito Olof's Brother's Lovefeast to support the anchorage and those that pass through. George believed that folks would have this simple meal "as the early christians may have done" and break bread, and remember him gently.  We are encouraging folks to have their own Agape Lovefeast on this day to remember George, and especially those who died during the Pandemic of 2020.
I recommend picking up Kate Kelly's book Ordinary Equality.  I can't wait till it becomes an audible book.  So everyone can digest it.  When I first met Kate on our way to Senator Orin Hatch's office in SaIt Lake City I shared that she had the same spark of Katrina.  A fireball.
Finally, on Saturday I was speaking to Bishop Trevor as I often do, he is my Bishop after all and I will be renewing my vows with him later this year. And I said, "… wouldn't it be nice if folks prayed for the fallen angels. That we pray to God for forgiveness for all and those below entry. That's what I believe. It's what I was just talking about with my Uncle Freddy." Bishop Trevor replied, "The Resurrection, Happy Easter.  I'm off to write my sermon." And we said our adieus – till the next time for indeed, Christ has Risen!
Under the Mercy,


Helene de Boissiere – Swanson, Katrina's Dream
"What are kingdoms without justice?"  ? Augustine of Hippo, City of God
PS  Starting in May, May 4th to be exact, we are porting The Call program back to the first  Wednesday of the month at 12 noon and from time to time as needed.
All Hands on Deck – Call 2 Action
First, call on the Biden/Harris Administration petitioning them to spend their political capital on enshrining the Equal Rights Amendment by calling on the Senate to Remove the Deadline on the Equal Rights Amendment (E.R.A.)  Ask them to instruct the Archivist to Publish Virginia's Ratification as a symbolic move of their commitment to the passage of the E.R.A. at this juncture.
The number is 1 (202) 456-1414 [White House Switchboard]. You can submit a comment here.
Don't stop there call upon U.S. Senator Richard Durbin Chair of the Senate Judiciary Committee asking him to hold hearings on SJ RES 1 Removal of the Deadline on the E.R.A. and your next call is to U.S. Senator Charles Schumer and petition him to bring SJ Res 1/HJ Res 17 to the floor for a vote. We have the majority that will remove the deadline on the Equal Rights Amendment and end the contraversy for once and for all.  CALL your Senators petition them to reach out across the aisle and work with advocates in bringing on an additional eight (8) co-sponsors so that we can break a potential filibuster. tell them that "It is time to Pass the Equal Rights Amendment!" The number there is 1 (202) 224-3121 [U.S. Capitol Swithboard]
Here is the Power of Ten script. Be sure to share your efforts with friends.
How to make your call to the U.S. Senate.
Identify yourself and state (zip code works) and that you are calling in your individual capacity, and reference the organizations that you are either in a leadership role, a member of ________ organization/network or working alongside. Then state in your own words. See below example as a guide.
Good Day my name is _________ and I am calling Schumer petitioning his support for the passage of the ERA into the US Constitution and requesting that as Leader of the Senate that he bring SJ Res. 1/HJ Res. 17 to enlist the support of his colleagues as he and other senators reach across the aisle and usher in the enshrinement of the Equal Rights Amendment into the US Constitution and  take the ERA to the floor for a vote and vote "Yea!" 
Be sure to give at least one reason as to why this is important to you, a personal antidote/story is compelling. Here are several good issues that the Equal Rights Amendment will address:
1. Equal Pay for Equal Work; and
2. Domestic Violence; and
3. Healthcare (i.e. Reproductive Health; and Pharmaceutical Research and Development, Physician & Hospital Care, etc.); and
4. Education (Early Childhood Development Programs, Access to Arts & Sciences, Ongoing and Continuous Learning Programs; and
5. Employment Opportunities in both the Public and Private Sectors and not limited to Civil or Government at Careers; and
6. Prejudice and Racism how without the Equal Rights Amendment the hidden face of prejudice and racism will continue to be masked and that piecemeal legislation does not directly address these concerns; and
7. Economic growth, being that single mothers or women that are head of the households spend their monies on their families the more money they earn the more they have to spend as well as invest or build new enterprises, thereby building economic growth for the USA in the process.
 Conclude the message with a "Thank you." Leaving your email, telephone number, and zip code.