The UN Inquiry into Hammarskjold's death: Last chance to reach the truth?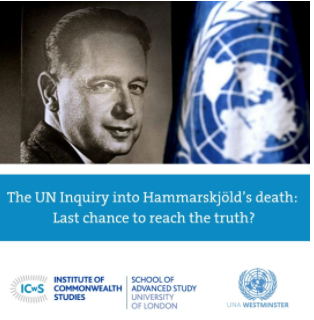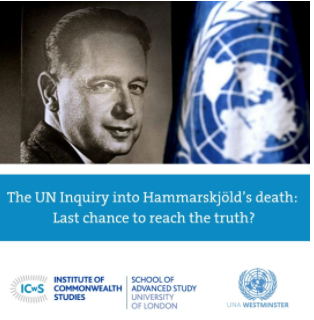 The UN Inquiry into Hammarskjold's death: Last chance to reach the truth?
60th Anniversary of The unexplained deaths of Dag Hammarskjold and colleagues.
The Rt. Revd. Musonda Trevor Selwyn Mwamba: Former Bishop of Botswana
16th September, 2021, Lusaka, Zambia.
Morality of the pursuit of the truth; an African viewpoint.
"Then you will know the truth, and the truth will set you free." John 8:32
Two years ago I was part of a panel of speakers in the House of Lords, chaired by Baroness Garden of Frognal, who urged the British and South African governments to cooperate with the United Nations search for the truth in the unexplained deaths of Dag Hammarskjold and colleagues on 18 September, 1961.
In two days we shall mark the 60th anniversary of their death. As a Bishop of the Church I shall offer prayers for the souls of the dead. Suffice to say now:
The souls of the just are in the hand of God, and no torment shall touch them.
(Ecclesiasticus 3:1)
May their souls rest in eternal peace and rise in glory.
What I said then remains unchanged. I spoke about the:
Morality of the pursuit of the truth; from an African viewpoint.
From a personal perspective what I have come to realise very strongly is that we live in a moral universe and the truth shall always triumph. No matter how long it is buried, no matter how long it's ignored. The truth ultimately emerges and triumphs.
We are inching closer to the truth. I say so because Dag Hammarskjold was a peacemaker.
One of the beatitudes in the New Statement states: Blessed are the peacemakers, for they shall be called children of God. Matthew 5:9.
This succinctly defined Dag Hammarskjold. I seek to elaborate on this but first allow me to share this anecdote a friend told me once upon a time.
My friend was a student at University in Canada. One day in his political science class the professor was giving a lecture on some aspects of the United Nations.
And mentioned in his lecture that Dag Hammarskjold who was the Secretary-General of the UN perished in a plane crash. And this happened in a remote part of Africa.
My friend interrupted the professor and said to him that he was not putting the picture correctly. And the professor asked him what he meant.
My friend answered saying, ' Yes, Dag Hammarskjold's plane did crash in Africa, and it was in my country this happened.
The professor asked my friend if he knew more about it and he responded that it was certainly not the way he was putting it.
So the professor requested him to come up front and explain to the class what he knew. This he did going up front he drew a rough map of Zambia.  And said that contrary to what the professor was saying that the plane crashed in some remote part of Africa it was actually very near one of the cities in Zambia which was called Northern Rhodesia at the time.
My friend pointed out where Ndola was on the map and said the crash was a few miles away from the airport and so his plane was actually seen and people knew where it crashed. So it was not as reported in some remote place.
Having finished explaining my friend was applauded by his class and smiling surmised that students like to see professors put in their place!
My friend's acute observation that the crash was a few miles away from the airport and Dag Hammarskjold's plane was actually seen and people knew where it crashed; formed an important factor in reopening the inquiry in the crash.
And Dr Susan Williams magisterial book, Who Killed Hammarskjold? The UN, The Cold War And White Supremacy in Africa brilliantly presents us with compelling evidence of the truth that the Rhodesian inquiry which laid the basis for subsequent investigations buried.
The truth unearthed shows considerable new evidence as well as clear proof that the Rhodesian inquiry was seriously flawed by a pre-disposition to view the world in racist terms and by the suppression of information.  The Panel Report (2015) noted in paras 46-70 of the judge's report the importance of the witness statements by the charcoal burners.  In 1961, these were considered unreliable; a colonial-era attitude.
It is apparent too as Dr Williams unearthed that some information was tampered with as in the case of the Rhodesian ballistics reports and the air – brushing of the photographs of Dag Hammarskjold's body.
All this unearthing is because we live in a moral universe in which the truth cannot be suppressed indefinitely. Vaclav Havel, in his essays Living in Truth, wrote that:  'The desire to be in touch with what is true, and to live by it in all its consequences, is deeply embedded in human beings. We cannot live falsely for long; truth has a radiant power that cannot be quenched…we cannot live for long 'within the lie'.
When Dag Hammarskjold died on Zambian soil his soul became a part of Zambia and Zambia a part of him.  As Zambians, we are therefore desirous to know the truth of why Dag Hammarskjold was killed.  It's important for Zambia's identity to know its past in order to embrace its authentic self in the future.
It was in the course of living out his role as peacemaker by resolving the crisis in the Congo that the greatest Secretary-General of the United Nations died in my country Zambia – Northern Rhodesia as it then was – in 1961.
I returned recently to Zambia to contest the presidency of my party UNIP- the oldest political party in Zambia which I won. I toured all the ten provinces of Zambia.
When I arrived on the Copperbelt Province where Ndola is located the first thing I did was to go to the Dag Hammarskjold Memorial Crash Site. It was declared a national monument in 1970 and UNESCO World Heritage Centre in 1997.
I went there to offer my prayers for the repose of the souls of Dag and all who died in the plane crash.
A great man died on Zambian soil.  And President Kennedy, a great man himself,  and the most powerful man in the world at the time said of Dag Hammarskjold:
"I realise now that in comparison to him, I am a small man. He was the greatest statesman of our century."
He was the greatest statesman because he was peacemaker. And the crash site I felt that peace. And I too dedicated myself to the pursuit of peace.
At the crash site I reflected about Hammarskjold's life as a peacemaker and ethical leaders which is an inspiration to us all and good place to conclude.
In 1953, Dag Hammarskjold became the second Secretary-General of the United Nations. In my opinion the greatest Secretary-General ever.
He said in his inaugural speech to the General Assembly, 'Ours is the work of reconciliation….' and ended with these words from a Swedish poem, 'The greatest prayer of man is not for victory but for peace.'
The pursuit of peace inspired Dag Hammarskjold's life and work. He eloquently said:
'Our work for peace must begin within the private world of each one of us. To build for humankind a world without fear, we must be without fear. To build a world of justice, we must be just…
For him the pursuit of peace with its trials and errors, its successes and setbacks could never be relaxed and abandoned.
He did not relax or abandon his pursuit of peace in the Congo when his plane was shot down in then Northern Rhodesia – now Zambia in 1961.
Blessed are the peacemakers for they will be called children of God.  Dag Hammarskjold was a child of God. A peacemaker.
What he stood for was to create a just world, a peaceful world, a decent world, so the UN inquiry is very important for Africa and for the wider world for the sake of peace – and I define peace as in the Hebrew sense as shalom.
Shalom gives us a richer and multifaceted meaning which is lacking in English. The word suggests peace is complete well-being, physical, psychological, social, and spiritual; peace amongst nations, peace amongst people, and it flows from all of one's relationships being right with God, with oneself, and with others. This is peace complete wholesomeness.
This is what defined Dag Hammarskjold.
By his death, the world lost one of its greatest servants  – a brilliant mind, a brave and compassionate spirit, a peacemaker, a mystic. He pointed us to strive diligently for a world in which people solve their problems by peaceful means and not by force.
And of this I am certain, his death and that of his colleagues was not in vain for the truth shall prevail in spite of obstacles because we live in a moral universe where the truth cannot be buried wrong.
Dag Hammarskjold: A Political Mystic
We are all a  mixture of people who have touched our lives. In my life one such person is Dag Hammarskjold.
Hammarskjold died in suspicious circumstances in Zambia then Northern Rhodesia on September 18, 1961. Moments after midnight his plane crashed in a forest in Ndola.
Sabotage was suspected and multinationals and the governments of Britain, Belgium, the USA and South Africa accused of involvement in the crash.
In 2011, the fiftieth anniversary of the crash, Dr Susan Williams, a historian, author, and senior research fellow at the Institute of Commonwealth Studies, University of London, published a book Who Killed Hammarskjold?: The UN, The Cold War and White Supremacy in Africa.
It revealed that the initial official inquiry by the Rhodesian government was a cover-up which suppressed and dismissed a mass of crucial evidence pointing to foul play. It unearthed lots of new and hitherto secret documentary and photographic evidence.
The book reveals Hammarskjold as principled and seeking to protect the newly independent nations of the world from the predatory instincts of the Great Powers. It reveals that the conflict in the Congo was driven by the Cold War and by the West's determination to keep real power from the hands of the post-colonial governments of Africa. And that the British settlers of Rhodesia wanted to maintain white minority rule at all costs.
The book initiated the establishment of the Hammarskjold Commission in 2012 which recommended in 2013 that the 1962 UN Inquiry into Dag Hammarskjold's death be reopened to examine the new evidence.
In 2014, a declassified secret telegram sent to Washington in 1961 by Ed Gullion, the US Ambassador to the Congo, identified Jan van Risseghem as the pilot of a Katangese jet which allegedly shot down the Douglas DC-6 aircraft carrying Dag Hammarskjold.
In 2016, the Secretary-General of the UN Ban Ki-moon called for the appointment of an eminent person or persons to pursue the investigation into the death of his predecessor, Dag Hammarskjold.
After his death, in his Manhattan apartment, a manuscript was found on his bedside table. A spiritual diary which he described as his negotiations with himself and with God  and was later published as "Markings."
Dag Hammarskjold was a man of God, of prayer, with a sense of the mysterious, a sense of calling to make better our world. His faith inspired his work making him the greatest Secretary-General of the United Nations.
The former Archbishop of Canterbury Rowan Williams wrote that Hammarskjold's extraordinary example of a statesmanship that was at once astute, humble, courageous, patient, and risky is as necessary for us as water in the desert…". It is something that leaders must nurture – the God focus.
Roger Lipsey's recent book Politics and Conscience: Dag Hammarskjold on the Art of Ethical Leadership, has apt lessons.
Hammarskjold's leadership reflected his faith.  After becoming Secretary-General in 1953 he talked about his belief:
The world in which I grew up was dominated by principles and ideals of a time far from ours and…far removed from the problems facing a man in the middle of the twentieth century. However, my way has not meant a departure from those ideals. On the contrary. I have been led to an understanding of their validity also for our world today. …
I now recognize and endorse, unreservedly, those very beliefs which once were handed down to me.
From generations of soldiers and government officials on my father's side, I inherited a belief that no life was more satisfactory, than one of selfless service to your country or humanity…
From scholars and clergymen on my mother's side, I inherited a belief that, in the very radical sense of the Gospels, all men were equals as children of God, and should be met and treated by us as our masters in God.
Faith is a state of the mind and the soul. In this sense, we can understand the words of the Spanish mystic, St. John of the Cross: Faith is the union of God with the soul. The language of religion is a set of formulas which register a basic spiritual experience…..
I feel that I can endorse those convictions without any compromise, with the demands of that intellectual honesty, which is very key to the maturity of mind.
The two ideals which dominated my childhood world, met me, fully harmonized and adjusted to the demands of our world of today, in the ethics of Albert Schweitzer, where the ideal of service is supported by and supports the basic attitude to man set forth in the Gospels…
….how a man should live a life of active social service in full harmony with himself as a member of the community of the spirit, I found in the writings of those great medieval mystics for whom 'self-surrender' had been the way to self realization, and who, in 'singleness of mind' and 'inwardness' had found the strength to say 'yes' to every demand, which the needs of their neighbors made them face, and to say 'yes' also, to every fate that life had in store for them, when they followed the call of duty, as they understood it.
Love…for them, meant simply an overflowing of strength with which they felt themselves filled when living in true self-oblivion. And this love found natural expressions in an unhesitant fulfillment of duty and in an unreserved acceptance of life, whatever it brought them personally of toil and suffering-or of happiness.
I know their discoveries about the laws of inner life and of action have not lost their significance.
Faith defined Hammarskjold. He believed whatever gifts he possessed where to serve humanity and make the world a better place to the glory of God.  He believed being Secretary-General of the UN was such a gift, a calling of which he could say, "the road to holiness necessarily passed through the world of action".
Hammarskjold's faith saw holiness as forged in life. In a world of chaos he sought to bring about order; in a world of war, peace; in a world of intolerance, tolerance; in a world of diversity an appreciation of it.
Dignified by his faith he offered supreme leadership to a tortured and unhappy world. This is what he was trying to do in bringing peace to the Congo when his plane crashed in Ndola.
Found in the wreckage was a book he was reading Thomas a Kempis classic the Imitation of Christ: it summed up his life.
President John F. Kennedy said of Hammarskjold, I realise now that in comparison to him, I am a small man. He was the greatest statesman of our century."
He certainly was and may these words of his inspire us in the Imitation of Christ.
"It is not sufficient to place yourself daily under God. What really matters is to be only under God…"
" Each of our capacities to create the world we dream of depends on our own journey, from fear to love, towards believing in ourselves, and leaving our demons behind."
Remembering Dag Hammarskjold may we too serve humanity and make our world a better place to the glory of God.