Call to an Agape – June 26, 2022 – Celebration of Life: Rev. George Swanson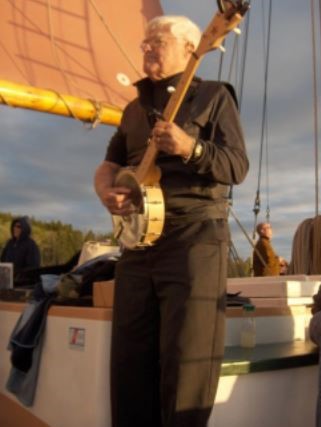 21st of June, 2022
Good Day Everyone, Everywhere,
George Gaines Swanson, my late father-in-law, was one of the world's great souls, priest, singer, composer, promoter of full equality of women, passionate advocate of prison reform, and a man of unceasing prayer. When he died December 5, 2019, the Covid-19 pandemic was just beginning and we failed to mark his passing as he had hoped.
What he wanted was no great gathering in some central place but a network of homey meals at the household tables of those who knew him or knew of him or simply wanted to honor the lives and work of those we love who have gone before us. Scripture tells that we Jesus people have broken bread together in such a manner since we became a people—the agape, the love feast.
George's birthday is June 26. This link will take you to an account of George's rich life and to an agape rite of his composition that you can use at your evening meal on that day or on a more convenient nearby day. It is appropriate that the agape leader be the person who prepared the meal. And don't omit a song at the end.
If you know the melody, Bill MacKaye, George's lifelong friend, recommends: "May the long-time sun shine on you, all love surround you, and the clear light within you guide your way on."
????, Love and Light in Christ, ?????? ?????, and namaste.
Under the Mercy,
Helene de Boissiere – Swanson, Katrina's Dream