The Call – July 6 @ 12 noon EST – Discussing Dobbs Ruling, General Convention 2022, Schumer Meeting on Removing the Deadline & Much Much More!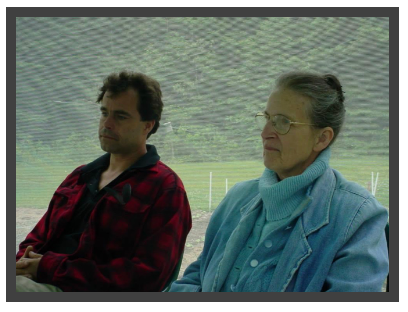 Third of July, 2022
Good Day Friends and Family,
The Fourth of July, Independence Day, has significant meaning to me. Following my marriage to William that both Katrina and George Swanson blessed on the Summer Solstice in 2004 at St. Saviour's in Bar Harbor, Maine, that on our honeymoon in Bolinas, California in front of Smiley's Saloon that Katrina enjoyed the small rural coastal California, with our sons River and Harry, was inspired by the town's parade that Katrina asked me to dedicate myself to continuing on with her ministry to pass the Equal Rights Amendment. So it was on the Fourth of July in 2004 that I vowed to make this journey for the ERA to promote Equality for All People… Everyone Everything Everywhere… in the same spirit that our forefathers signed the Declaration of Independence across the nation people are coming together to rally and petition their government for change. The Time is Now to Pass the Equal Rights Amendment!
This Saturday, I found the online Torah Study at Temple Micah's, Washington DC was festive with strong social justice overtones.  A few moments ago I departed St. Bartholomew's, White Plains, NY,  having shared with Rev. Este that I was heading to General Convention and she blessed our ministry and kindly made donations to offset unexpected expenses while volunteering at General Convention. If you like to help out too please click here. As you may know General Convention was sized down this year. Limiting the number of attendees  It was a difficult decision for the Church, but they moved forward with the big picture in focus..  However, having secured an Exhibitor's Booth utilizing a number of resources in anticipation of seeing all of our old friends, their decision was a blow to our budget.  Undaunted I have found a way to serve our Church and will be volunteering in Baltimore, so keep an eye out for me if you are attending and let's chat I have some lapel pins to give away and a postcard for you to sign asking the President usher in the ERA.
Strategy is everything focusing on the Senate is the objective, thus we have been holding meetings with Congress.  We have an upcoming meeting with Majority Leader Chuck Schumer and a group will be attending in their individual capacities as well as the organizations they represent.  The meeting is scheduled for July 19 the Anniversary of the Declaration of Sentiments and the beginning of my first pilgrimage following the 2012 General Convention in Indiana. And Yes the Postcards are back for this GC too. So do come and find me.  We have asked permission to record the scheduled meeting and have not yet heard back.  Ummm…. we will update folks accordingly. So do, please keep an eye out for time-sensitive actions to participate in and share across your networks.
Then I like to share a bit on the Celebration of Life of George Swanson, with a thank you to William's cousin Susan Peterson for sharing with the family, and a thank you Robin S. kindly wrote, "My mom Ann S.. And "Uncle George". Grew up together when they were kids.I remember bringing him Lombardo's sourdough bread from San Francisco. And he tore open the loaf and would eat it in the car. It brings peace he and my mom reconnected on the other side." and Bob. M shared, "My wife Sandy and I will do an Agape light dinner on Sunday eve and remember and honor our beloved George Gaines Swanson."  I hope you will continue this tradition for others along your journeys.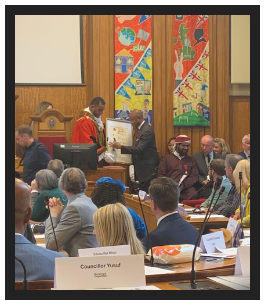 Most exciting, board member Bishop Trevor was awarded the Freedom of the London of Borough of Barking and Dagenham Award, the 27th of May, 2022 at the Extraordinary Ceremony Council.  Congratulations Bishop Trevor! Wishing you the very best as you take on the challenges as President of UNIP of Zambia.  We look forward to your continued success in facing the challenges of a globalizing world and moving forward.   
Getting back to General Convention for a bit as stated many were thrown a curve ball and we are adjusting.  Margo Guernsey who is producing a documentary on the Philadelphia Eleven was also to showcase her upcoming documentary at General Convention / to the throngs alas GC being sized down, that was no longer a possibility.  She and several others organized a preview and I was brought to tears as were many others. If you can assist with bringing her project to completion please do help.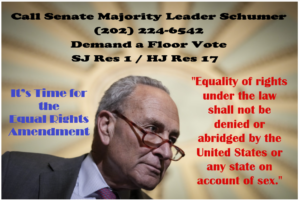 We need your help and for folks to call upon Senator Schumer, U.S. Senator Charles Schumer  Here is the Power of Ten script. petitioning him to hold the floor vote and adopt HJ Res. 17/SJ Res 1 which will remove the imposed deadline on the ERA.
You can submit a comment here. 
If your Senators are co-sponsors then ask them to reach across the aisle to their colleagues. Then if they have not co-sponsored, petition them to co-sponsor and secure a "Yea!" vote.
The number there is 1 (202) 224- 3121 [U.S. Capitol Switchboard] 
Then make the Biden/Harris Administration one of your 10 folks asking the Executive Branch to keep their campaign promises and move our nation forward and thank them for their commitment to serve the people of the USA.
The number is 1 (202) 456-1414 [White House Switchboard].  
Expect this month's program to be feisty, fact and action-filled!
12:00 pm  Welcome and Meditation
"For you have been called to live in freedom.
Use your freedom to serve one another in love."
Galatians 5:13 
12:05 pm Introductions – Those who wish, introduce themselves giving one or two words on your state of mind. (examples: invigorated, focused, determined)  
12:15 pm  Reports and Announcements
Equal Means Equal – Inez Muholland Planning Committee
Sundays at 8pm EST  Join Zoom Meeting
https://us02web.zoom.us/j/88977797066?pwd=D9J7Fmi9VUavRBJx8ZBGhhFvkZ160z.1
Meeting ID: 889 7779 7066         Passcode: 770285
Advocating with REthinking Eve on Publication Strategy
Thursdays at 2:30 pm EST  JJoin Zoom Meeting
https://us02web.zoom.us/j/89787555477?pwd=b3piMjdSamNUWEpuN0pRaWh2TkZmdz09
Meeting ID: 897 8755 5477   Passcode: 881762
Promote ERA Actions Facebook Event.
Demand Schumer Schedule a Vote  https://www.facebook.com/events/1068553640742245/1068626250734984?ref=newsfeed
Check out ERA Activist Natalie White Trending on Tic Tok
12:30 pm  Organizing Discussion 
General Convention 2022 July –  Helene de Boissiere – Swanson, volunteering
Meeting with Majority Leader Schumer's Office – July 19 – Anniversary of Senecca Falls Convention – Kamala Lopez to schedule a dress rehearsal. 
Lambeth Conference 2022 – 

Liturgy in  the Thanksgiving for the Ordination of Women

 – July 29 – Anniversary of the Ordination of the Philadelphia Eleven              
12:55 pm  Wrap up
1:00 pm    The Conversation continues building friendships, support wanderings, sharing wisdom and frustrations, and celebrating successes.
This Weeks' Music Selection – Liverpool 8 performed by Ringo Starr.
Love and Light in Christ,
Under the Mercy,
Helene de Boissiere – Swanson, Katrina's Dream
What are kingdoms without justice?"  ? Augustine of Hippo, City of God