In Advance of the Holiday Season – A Special Report from Katrina's Dream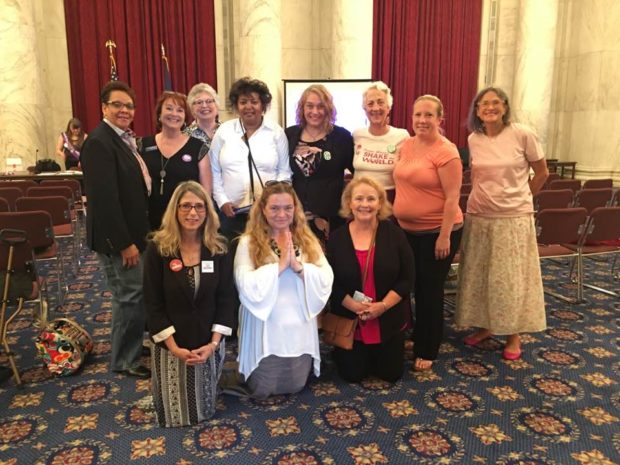 Please do excuse the typos…Â  but do make calls to your US Congress Elected Officials – Not One More Day Will We Wait…
November 1, 2019
Dear Family & Friends,
Addition's to the Katrina's Dream Team
This has been an amazing year.  So many wonderful things taking place with the ministry of Katrina's Dream.  We have new Board Member Bishop Musonda Trevor Selwyn Mwamba who brings a worldly perspective to our organization as the Retired Bishop of Botswana and the Honorary Bishop of Chelmsford in Barking (London, England).  We also are built bridges of peace and love with our newest consultant from hails from the Middle East, Mahmood Allahmeen King, a Bedouin who resides in Qatar.  As a member of the Islamic faith, he prays for peace for everyone, everything, everywhere.  He too believes in Equality for all. We are blessed to call him a team member sharing his wisdom on inter-religious relationships as we continue to move forward and towards mutual respect for believers and non-believers alike across the globe.  I invite you to peruse our website page of our Board Members and Consultants brief bio's.  Please Click Here.
Let's Pass the Equal Rights Amendment
We continue to promote and educate folks here in the USA and around the world to the importance of the passage of the Equal Rights Amendment (E.R.A.), originally introduced as the Lucretia Mott Amendment, into the U.S. Constitution.  We hold The Call, a weekly national non-partisan program to pass the E.R.A., with our colleagues Sharon J. Hill of Public Eye Reports and Tammy Simkins of ERA Action.  Both women are diligent in the various groups they are members or are working with, which include the League of Women Voters, National Association for the Advancement of Colored People, National Organization for Women, just to name a few.  Please read on up these amazing women dedicated to Removing the Deadline on the ERA and the ratification of just one more state.  We are blessed with their many and varied gifts that bring to the passage of the Equal Rights Amendment.
Earlier this year our board member, Bishop Mwamba welcomed folks to our Let's Pass the Equal Rights Amendment Panel and Workshop, a parallel event, as part of the 63rd United Nation's Commission on the Status of Women Conference held at the headquarters held on March 11, 2019 in New York City, New York.  Katrina's Dream submitted written testimony and entered in the record by Representative Steve Cohen on the April 30, 2019 hearing on H.J. Res. 38 – Removing the deadline on the ERA. And this year through the efforts of those who participate in our weekly program The Call we are now nearing the number of 218 co-sponsors, which Speaker of the House imposed after the April 30, 2019 hearing on H.J. Res. 38, we pray that there will no further delays coming from her offices, (as may or may not be aware my pilgrimage across the United States covering the then 15 unratified states was cited in the Nevada General Assembly Record as being the spark that lite the fire for Nevada to ratify becoming the first state in the 21 Century to ratify and was also part of the written record in 2017). Most recently the folks of ERA Taskforce AZ staffed our table at the Episcopal Diocesan Convention for Arizona, we look forward to having more tables at other diocesan events over the months and years to come.
Sustainable Social Justice Ministries
We are very much still active in addressing a wide gambit of societal concerns here in the USA which range from sustainable practices in one's personal, business, and/or professional life and in governance of this country.  On a local community level here in Park Slope, New York in the borough of Brooklyn at my late brother's business Mailboxes on Fifth, we are continuing in the Carpenter tradition of putting everything to good use, we recycle used shipping boxes, we are using the walls to promote the artistry and crafts of painters and sculptors alike, we have shelving for DVD's and CD's, and books and greetings cards, and other knick-knacks.  On wall of our weighing and packing station we have various literature from the pilgrimage and other church related program.  And we remain dedicated to my father-in-law, the Rev. George Swanson's ministry addressing various Prison Reform concepts.   This year California suspended the executing folks on Death Row which accomplished with the swift pen of Governor Gavin Newsome, and as many of you might recall my late husband William held a weekly candlelight vigil for several years calling for the Closing of the Death Chamber.   So in that vein, we invite folks to put together their own production of Natural Causes Killed Victor a folk opera written by George Swanson and performed at St. Saviour's Episcopal Church in Bar Harbor, Maine a few years back.  On the global scale we look forward to our continuing relationship with Bishop Pradip Kamble and his wife the Rev. Magda Kamble, as we further explore how to best proceed with our visionary program serving all the peoples of India. Then, we are also in the very early stages of addressing the issues of poverty and strife in the Middle East and have launched our new ministries Save Syria and Yea! Love 2 Yemen.  All this we look forward to showcasing 21st Century Church concepts and theology and our ministries at The Marketplace at next year's Lambeth Conference 2020.
Prayers and Support
I pray that each and everyone who reads this email takes a moment to call their US Congressional Members and call for their support of H.J. Res. 38 in the US House and S.J. Res. 6 in the US Senate.
We do not have exorbitant administrative costs.  No one at Katina's Dream draws a salary, and we like to keep it that way so that fundraising does not come in the way of doing G-d's work.  Having said that though, there are expenses associated with the day to day operations of our programs so if the Spirit moves you do please feel free to make your tax-deductible donation. Click Here for those details.
Most important please do pray to the G-d of your understanding for the realization of Equality for All, and Peace and Prosperity for all of the world's peoples.
I like to end this report with a thank you in advance for your continued prayers and support.
Love and Light in Christ and Shalom,


Helene de Boissiere – Swanson, Katrina's Dream
What are kingdoms without justice?"  ― Augustine of Hippo, City of God
Please Do Follow Us
Online on Facebook, Twitter, Instagram and YouTube for conversations and community. We love hearing from you!
And visit our website and check out all latest from women around the world as a dream that began as a conversation around a kitchen table to share G_d's love for all.


This message was sent to your email as we wish to communicate important news here in the USA and around the world. Katrina's Dream complies with the regulations for active fight against spam (spam ) . You can exercise your right to rectify or delete data according to existing regulations or report any abuse or unsubscribe from this newsletter by CLICKING HERE