See with New Eyes – Perhaps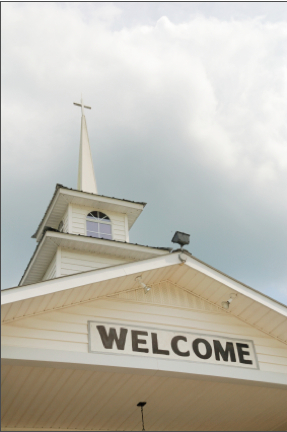 As Sophia Petrillo of Golden Girls tv-fame often said as she was about to tell a story … "Picture this!"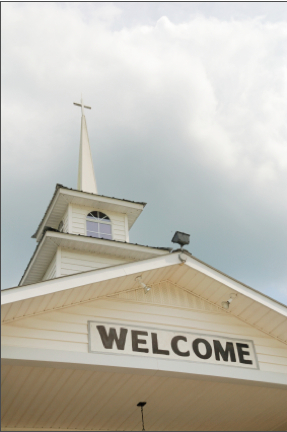 Picture this … it's Sunday morning. You're in an unfamiliar city. You see an Episcopal Church. Going to Church on Sundays usually gives you "something to hold on to" – strength for the coming week and you could really use some of that strength and sense of community today – so you go in.
After worship, you head off to coffee hour for much needed fellowship. But almost everyone you approach starts conversations with the person "next to them or walked in another direction."   Just before you leave, you have a very brief encounter with one person who tells you that people at the parish "normally don't talk to folks 'til their sixth or seventh visit."
You leave … overwhelmed.   And, you won't return.
This isn't fiction. It's true – and what Helene de Boissiere Swanson shared on the "Episcopalians On Facebook" group. Her words jumped out at me. While I was dismayed that she had experienced such a lack of hospitality, I was not surprised. Facilitating Seeing With New Eyes workshops for dioceses and parishes over the years, such stories don't surprise me. At all.
I've stopped being surprised by clergy who explain that the reason they won't have a Seeing With New Eyes workshop in their parish is because they think it would send a signal to colleagues and bishop that the parish is not really a welcoming parish and as their bishop boasts to colleagues "all of the parishes here are very welcoming," that would put an unwelcome episcopal spotlight on them and the parish they serve.
I've stopped being surprised by parishes who claim the ministry of hospitality as part of their Mission Statement and believe they are a welcoming parish, but whose visitors and newcomers discover them to be anything-but, as Helene's experience illustrated.
If your parish truly is a welcoming parish,                                                   then "bravo."                                                                                                                         If you have not had an experience similar to Helene's, ever,                    then 'thanks be to God.'
However, both professional and personal experience tells me that in many of our parishes, the reality is otherwise as these three vignettes of worshipping is an unfamiliar church while on holiday attest:
 * "Anticipating someone would welcome us to worship, we were surprised to see no one by the front door. Eventually, we found two people standing by the entrance to the Sanctuary, chatting, laughing and clearly engaged with one another. When asked for an Order of Service, one continued talking as she extended her arm with a leaflet towards us. No welcome. No smile. No anything."
 * "The large, heavy wooden doors around the church were closed with no sign indicating 'entrance.' Noticing people entering one door, we followed and found ourselves in the kitchen where busyness was the order of the day. People were too busy to notice or welcome strangers in their midst, let alone direct us to the Sanctuary."
* "No one greeted us on another Sunday as we entered the Church. The large posters on the Narthex wall ("We need your help … sign up to clean the church, make goodies for coffee hour, greet, read, serve on a Committee etc. Sign your name here") told us that this was a parish whose focus was work – not worship and fellowship. That's likely not what they intended but that's the impression it leaves when it's the first thing we saw. And then, we noticed a lectern facing the Narthex wall, a Lost and Found bucket, two cans of paint beside the bucket, and a tablecloth loosely covering the Narthex table (under which was unconcealed storage) where the closed Guest Book rested. These, too, spoke volumes, and our initial reactions that this was an uncaring and unwelcoming church were confirmed by our negative experience at coffee time."
 Perhaps you think, "Our parish isn't like that!" … or "We are a welcoming parish" … or "We have a strong ministry of hospitality" … or "I've never experienced lack of hospitality here."
But, what if it is or may be like that? What if people have experienced such inhospitality?   Perhaps it is time to step back and look at the parish with new eyes – give intentional consideration to the ministry of hospitality in simple, practical ways so that the parish can be seen and experienced as a welcoming spiritual home for parishioner and stranger alike.
Admittedly, it's not easy to do. It's difficult to be objective for often, our eyes are dim when we look around at our familiar church … its property … buildings … outdoor signs … printed material … internet presence … Greeters ministry … coffee time … outgoing phone message, etc. One such parish was shocked to discover the name and contact information for the rector of the parish (who had retired over a year and a half before!) had never been updated.
Oh, the stories I could tell that would begin … "Picture this!"
What about your parish?   Is it time to 'see with new eyes'?
Perhaps.
For more information about the "Seeing With New Eyes" workshop, contact:
The Reverend Dr. June Maffin
Email: Â  Â  Â  Â Â Â  Â junemaffin@gmail.com
Website: Â  Â Â www.soulistry.com
To down load literature Clck this link SeeingWithNewEyesFINALVERSION